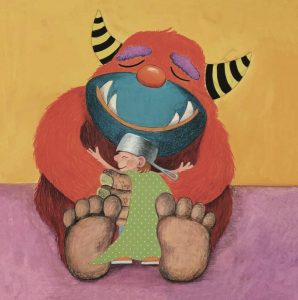 Dave has a monster in his basement and the monster wants him to come for dinner. Is dinner to be had or is he to be had for dinner? Find out why Dave is going to shake shake shake shake shake a little bit. And see the surprise ending to this melodic tale. The book includes a song sheet and the song can be played at https://www.howardthemonster.com/.
Sample text from The Monster in my Basement
I found a monster
in my basement,
oh what a big surprise.
His hair was red and matted.
Yellow were his eyes.
He looked so sad and lonely. I wondered what to do.
He said, I'd like a bite to eat. How about you?
<End of sample text>
Read the full book by selecting one of the buttons below the post.
Read more books about monsters in our Monsters section see below: