नयी लड़की The New Girl in Hindi Zenie is the new girl at school, everyone stares at her and a lot of her classmates make fun of her. Mira befriends Zenie, for she was once the new girl in their school and she knows what Zenie is going through. She told her classmates that there is nothing wrong with being different and urges Zenie to participate in their project.
Author: Srividhya Venkat, Illustrator: Sayan Mukherjee
See this book also in English here on Free Kids Books: https://freekidsbooks.org/the-new-girl-diversity-in-indian-culture/
Text and Images from नयी लड़की – The New Girl in Hindi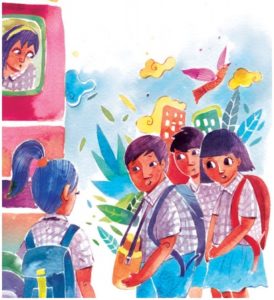 मीरा केकूल वालेबस टॉप पर आज एक नयी लड़क दखी। सब बचेउसेही घूर रहेथे। पर "कसी नेउससेबात नह$ क।
कूल बस आयी तो सब बचेअपनेअपनेदोत' केसाथ बैठे। वह नयी लड़क अकेलेही बैठ*।
क.ा म/प0ँचनेपर सलमा 2मस नेमीरा और उसकेसहपाठय' सेकहा, "देखो तो ज़रा, यहाँकौन आया ह?ै तु:हारी नयी दोत!" और
उस नयी लड़क क ओर इशारा "कया।
सब बचेउस लड़क को मुड़ कर देखनेलगे। "अरे! यह तो कुछ अलगसी दखती है।"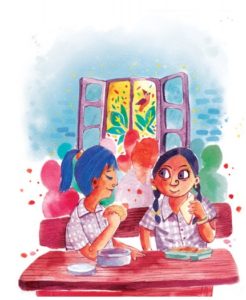 सलमा 2मस नेकहा "क उCह/Dज़नी के साथ Eयार सेपेश आना चा"हए और उसक मदद करनी चा"हए। तो उसका नाम Dज़नी था, सभी को पता चला।
मीरा को याद आया "क वह जब क.ा म/नयी-नयी आयी थी, तब न तो "कसी नेउससेबात क थी और न ही कोई उसकेसाथ खेला था।
उसनेमुकराकर Dज़नी को देखा। Dज़नी भी उसेदेखकर मुकरायी। कला क क.ा म/मीरा नेअपनी रंगीन पेKCसल/Dज़नी को भी रंग भरनेके LलयेदM। आधी छुOP म/दोन' नेअपना दोपहर का भोजन साथ म/खाया। बस म/साथ बैठकर घर तक गए और शाम को भी साथ ही खेल$। दोन' पQक दोत बन गR।
<end of sample>
नयी लड़की English Version Below:
A new girl comes to class, initially, she is shunned, but one child makes friends and encourages her to celebrate her differences. The story culminates in a class project where all children present items celebrating differences from all their backgrounds. The new girl shines.
See more books in Hindi below