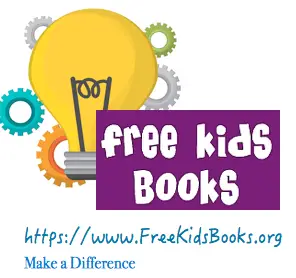 "Free Kids Books is a growing library of unique children's books, literary resources, and textbooks for children and young adults, available online and for download primarily in a user-friendly pdf format.
We aim to provide easy access to great free children's books and educational resources, for the enjoyment of reading and writing, and to promote improved literacy and education, and thus improved lives."

Books are separated into categories for toddlers, children, older children, and young adults, we felt this easiest since reading levels vary significantly between countries, especially where English is not a home language.
TODDLERS

CHILDREN
OLDER CHILDREN

YOUNG ADULTS*

Books with LOTS of Pictures and FEW Words
Books with FEW Pictures and LOTS of Words

Books with NO Significant Pictures, and Chapter Book Length Books.

*Our YA section is chapter books that contain sensitive material or complex topics aimed at mature children.
Great Free Stories! Is there a catch?
No! We just love books (and, sorry, we put up a few sponsored ads, to help pay for it). If you like the books and stories, for education, school use, bedtime reading, homeschool projects, or just entertainment, all we ask in return is that you please share them and your feedback with others, leave a comment about the book under the review tab for the author and other readers, share the book or site with your friends, follow us on Facebook, as you feel best, based on your reaction to our books. The authors really appreciate your feedback and interaction, and we really appreciate your support.
If you really really like the books and stories, most books are available as hard copies to purchase for your own child or as a gift for someone else.
Submissions
If you would like to submit a book for this site send me an email titled FREE KIDS BOOK SUBMISSION to danielle@redskyventures.org containing the following information:
1. Your site address where you want people to buy the book
2. Your book pdf (or a link to the download if it's large)
3. A short description of the book
4. Short text or quotes from any reviews
5. Any additional information you'd like us to know – but keep it brief and to the point!
If you do not receive an answer within approximately a week or two, your mail has most likely been intercepted by a spam guard! Please try again, or contact us by leaving a message on any of the posts on this website with a request to get back to you, or message us at https://www.facebook.com/freekidsbooksliteracyforlife.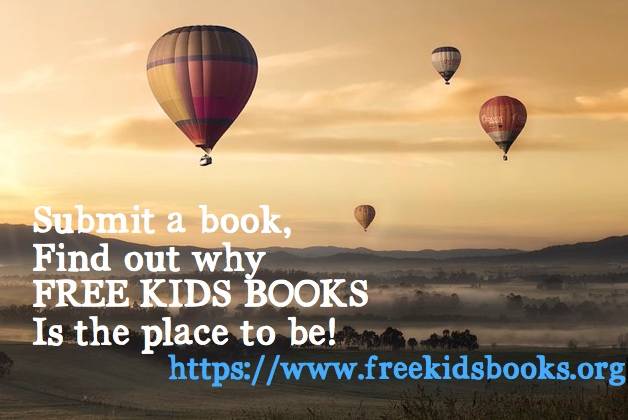 Stories and More – Open Educational Resources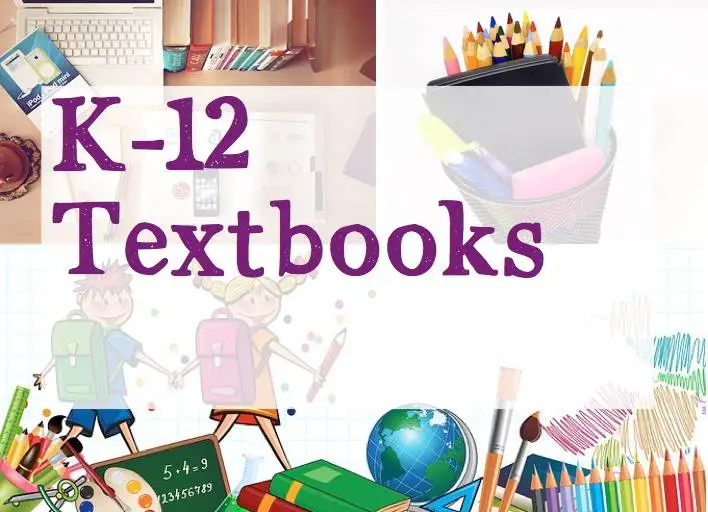 Free Kids Books has now added a section entirely dedicated to K-12 free online textbooks and free textbook downloads, FKB Free School Textbooks (FSTB). This section is a growing collection of open education resources in the primary and secondary sectors, and we link to any educational resources that we find free for download but not completely open*. This is why our new tag line is now saying "…stories and more!" As we so hope to be a comprehensive source of educational material for our target audience, children and young adults, or anyone wanting primary or secondary education or literacy.
With our Free School Textbooks project for K-12 – pre-primary, primary, and secondary education, we aim to collate and direct people to as many available whole resources (i.e textbooks or books) for students, parents, and teachers in this sector that are available in the global world of OER's as possible. This may sound ambitious, but we think it is achievable. If you know of a resource we don't have please contact me via our social media or email.
The world of OERs is growing, and we hope, with our online textbooks and downloadable textbooks in our FSTB project to share as many of these as possible with the people who need them, for home school and classroom use.
*we so hope to change this soon, however, some national education departments still release work under copyright. 
The FKB Make a Difference Project
To support our primary aims of creating more quality free children's literature that addresses important topics and more open educational resources, I have founded the FKB Make a Difference project, a non-profit volunteer association. Through FKB Make a Difference, we aim as the name says, to make a difference in children's education and welfare, and in contributions to open education. You can read more about the project here: https://www.freekidsbooks.org/makeadifference .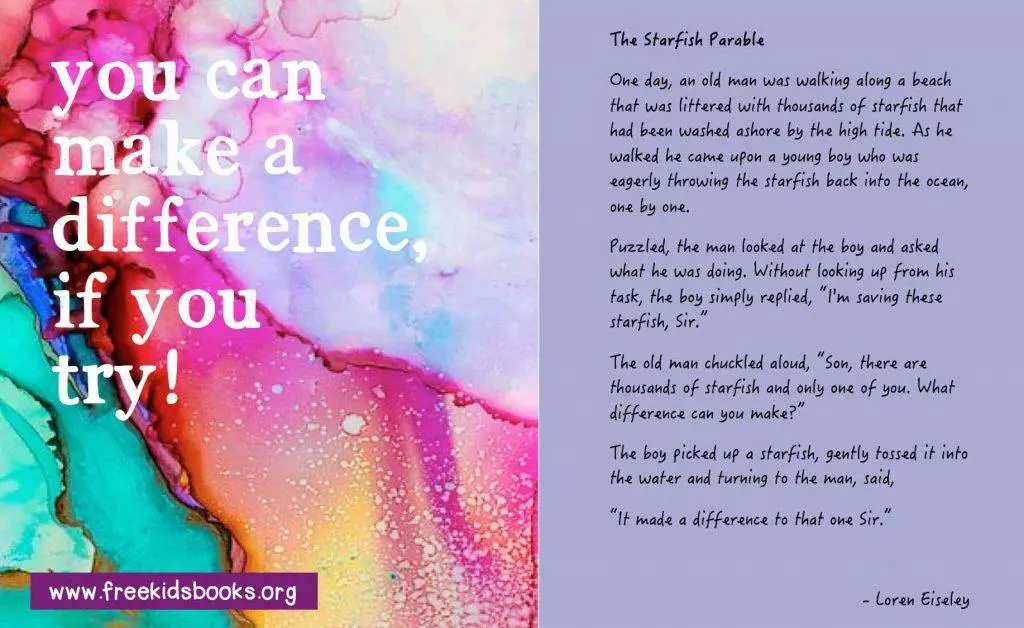 Reading the Books in pdf
 We find the best way to use the pdf picture books is to print the pages and staple them or keep them together in a slip file or folder. Another great way to read pdfs is on an electronic device such as a tablet or e-reader. Chapter books may be printed and put in a file to read, but work better on a tablet, phone, or e-reader.
This is a very cost-effective way to ensure children can have many great books to read over and over. Books can also be easily changed depending on your child's interest, and pages can even be drawn on, as replacing pages is so easy to do.
Children often are not very careful with books when they are young, and a printed copy can easily be used for everyday play, and if you like the books, again, you can
buy the hard copy and keep it aside for later (when your child hopefully has learnt to look after their favourite things a little better).
Another great advantage of printable pdf books is for colouring books. Electronic format colouring books need not be thrown away when the pages are used! And you can print many copies of the same page for fun trial and error colouring, allowing your child to keep the best ones for use in the flip file or scrapbook.
Again, if you do like the book, and your child wants to read it over and over again, the easiest way to get a convenient hard copy, is to buy a copy!
Alphabet and learning to read interactive series are now available in both pdf and in an editable open document form under the files tab. There are no restrictions on the use of these files, however, we appreciate it if you link to our site as the source.
Contacts:
We really appreciate it if you take the time to write a short message to us to help us improve the books and information contained here, post a reply or send me an email directly.
https://www.facebook.com/freekidsbooksliteracyforlife
Danielle Bruckert: danielle@redskyventures.org
Copyright Statements and Material
Please note: we do NOT publish any material that is in breach of copyright, all books should be either your own work or the use of creative commons and public domain material under the permitted terms of use.
Please include a copyright/license or terms of use statement in your book, even if you have chosen to put it into public domain since the absence of a statement in many cases infers copyright by the creator. If you choose to license your work under public domain or creative commons, a statement indicating such will help others to share it.
To help identify our books and to assert the copyright, each new book we have is now tagged with an identifier page, which confirms the creator or publisher's copyright status (that is, either standard copyright, creative commons, or public domain). These pages also help identify material which may be stolen from our site. Not all our free material carries an open license (creative commons CC-BY-SA or public domain), the others have a restricted license and cannot be reposted without permission. Sadly, we do sometimes get theft, but hopefully these copyright pages help prevent this, or at least if they are left in tact, they will identify us as the source and we can assist and ask the perpetrator to take the material down.
Press and Media Kits
I am putting together a press and media kit, while awaiting the official download to be available, if you wish to assist in sharing our site or our aims, please email me your request and I can send you the files with images and content you need.
Note any content and images on this site that contain our logo or link may be freely used or shared in any way required as long as the logo or link remains intact.
Permission to Use Books and Stories on this Site
The books on this site fall into three categories. Only those indicated as written or published by FKB or by me personally belong to us, the others belong to the individual creators or copyright holders. The copyright details are normally included inside the book. If you want to use the books and you're not sure what copyright applies, drop me a line with the book details to check.
Standard Copyright – The author has given us permission to publish the material if you want to use the book you need to contact the author.
Creative Commons – You can use the book but some restrictions may apply, (for example CC-NC is non-commercial only, CC-ND is no derivatives), for derivatives you can only release the resulting work in creative commons. You must always attribute the original creator. Please note, as a general rule, supporting a site with a few adverts is not considered commercial, commercial use is usually reselling the material, but if in doubt ask first! You can see most of the CC books here: https://freekidsbooks.org/license/creative-commons/
Public Domain – No restrictions apply, the material is not copyright. See our PD books here: https://freekidsbooks.org/license/public-domain/ and here classic public domain books are here: https://www.freekidsbooks.org/public,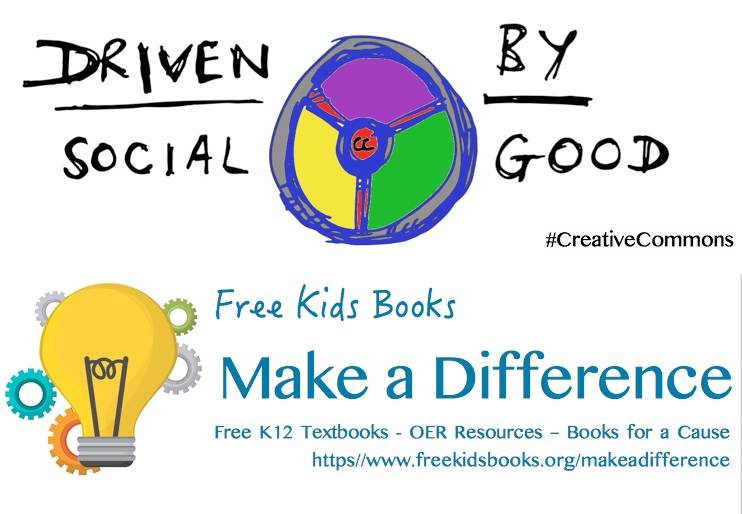 Feedback
We value your feedback immensely, and please see details below of how to contact me if you have any suggestions for improvement, or would like to contribute to the website, we welcome your input.
About the Site Editor and Founder (all about me…):

This site was founded and is currently managed and edited by me, Danielle Bruckert. We also currently have one dedicated permanent employee and two contractors, (this may grow soon, as we are hiring!).
As for me, I am a professional pilot, that is, I usually make my primary living out of flying aircraft. I have published several aviation textbooks commercially, my most successful is the "Cessna Training Manual" series, which I co-author with a colleague and long-time friend, Oleg Roud.
I write children's books as a hobby, as I find it a wonderful creative release, with many rewarding side effects. Yes, sure, I harbour the intention of creating a best seller one day, both for the impact on children, and the opportunities it may create for me, I think all authors do, but, it's not the reason I write, I just love writing, and being read. I am happiest when someone (yes, even just one person), is touched by one of my books.
I originally created Free Kids Books (FKB) to be an outlet to gain readership, reviews, feedback, and exposure for my own free kids books. Since the free publishing sites I found at the time didn't offer what I needed, but, what grew from this concept was much, much more.
Soon after developing FKB I realised it wasn't much use to people to have only my books there, so I started searching online for other people who had provided free children's books, asking them if they'd like to have them on the site. Along the way, I was surprised to find, that there are virtually no sites available specifically for downloading free good quality children's books.
After discovering this, my aim changed. I now wanted to provide the best free childrens' book download site there could be, for parents, authors, ESL students, but primarily for the kids. With the advent of the OER movement, this aim has further grown into providing education resources for our target audiences (that is pre-primary, primary and secondary levels, aka K-12) too.
This has been a slow process, since I work full time, and have two awesome little monsters of my own, and my web developer also has a day job,  – but over time, we're getting there, and I do hope you're all enjoying it.
I love working on the site, but I love more what the site brings. For parents and children, more books! For authors, more exposure, and networking opportunities. For teachers, more resources. For me, I love connecting with readers and authors, I love when people enjoy the site, and I love knowing we're contributing in some small way to improved literacy. Along the way I've also gained some great feedback for my own books, (aka the original aim :-), some great research from others books, and made some great friends.
I hope you enjoy the site, please email me if you have any feedback or comments (danielle@redskyventures.org), or you can also reach me via twitter, facebook, or post a comment on any post here I will receive it before it goes live.
Also feel free to post comments live at https://www.facebook.com/freekidsbooksliteracyforlife, as this helps others too.
If you want to receive updates about our latest books, you can also subscribe to our mailing list here: subscriber list.
Please note, I try to respond to all comments or emails within a few days unless I am on leave, so if you don't get a reply it has probably reached a spam filter, please try again.
Regards
Danielle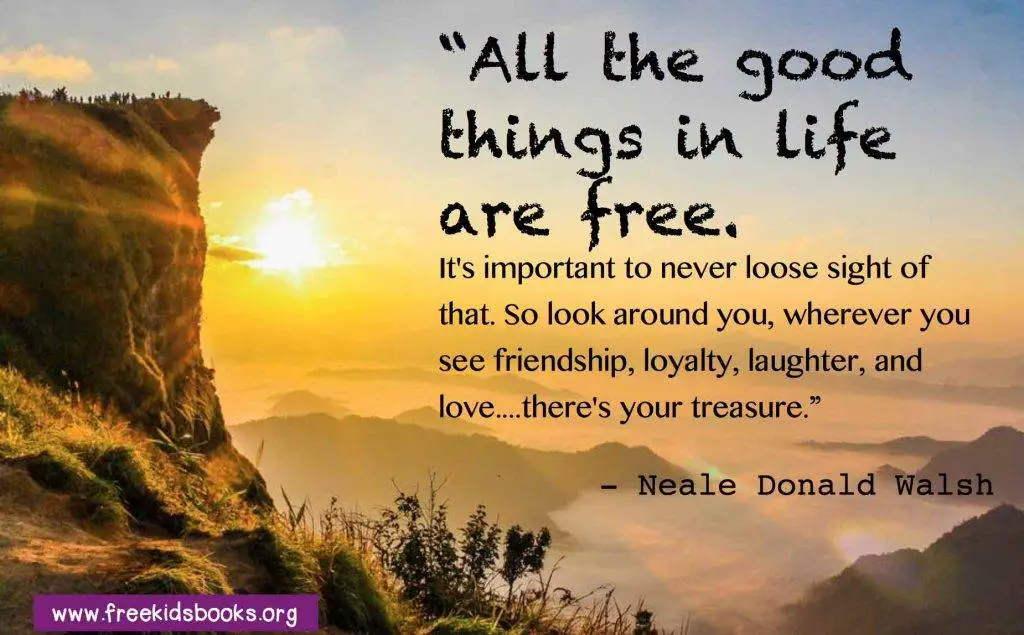 Commercial Status and CC-BY-NC: FKB is a for profit business that is we are 100% self-supported and self-sustaining by commercial activities, namely the website displays advertising. We do not ask for donations in fact we actually give donations and we have a monthly budget dedicated to this. However, we are a new type of business model called a "zero-profit" business. That is 100% of all our profit generated (after expenses) are returned to support development of new educational resources, training, and internships, or for support of our non-profit venture, the FKB Make a Difference project, thus for the purposes of sharing information on this site and re-publishing CC-BY-NC material, we qualify as non-commercial.
Privacy /Disclaimer: Note, this site is maintained via the small revenue stream from the adverts you see. These advertisements use cookies, that is, they view some of your personal data to change the adverts, just like all other sites using Google Adsense, or similar types of adverts. None of the data is stored by anyone.