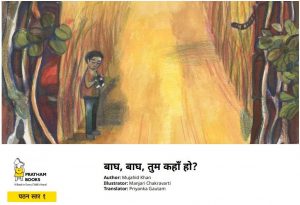 बाघ, बाघ, तुम कहाँ हो? – Researchers are trying to understand the genetic impacts of isolation and inbreeding on endangered species such as the tiger. Follow along the story as we track the tiger. There are a lot of things to use to follow his tracks the set of foot prints on the mud, his scent which he left to attract a mate, the tigers stool which we can tell what he had for lunch and his claw marks on tree trunks.
Author: Mujahid Khan, Illustrator: Manjari Chakravarti
Text and Images from बाघ, बाघ, तुम कहाँ हो?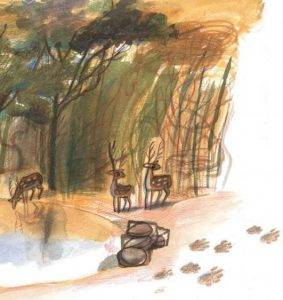 बाघ, बाघ…
तुम कहाँ हो?
म तो यह था। या तुमने झील के कनारे
मेरे गीले नशान नह देखे? मने वहाँ ठंडे
पानी म झपक ली।
बाघ, बाघ…
तुम कहाँ हो?
म तो यह था। या तुमने नरम
म पर बने मेरे पैर के नशान
नह देखे?
गौर से देखो। म उधर से आया था,
या वहाँ से कह गया था।
<end of sample>
Read the full book by selecting one of the buttons below the post.
बाघ, बाघ, तुम कहाँ हो? English Version below:
Read the English version using the above link.
See more Hindi Stories below