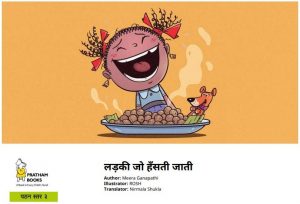 लड़की जो हँसती जाती – The Girl Who Could Not Stop Laughing Hindi – Laughing is a natural way to express how we feel. It is also a good exercise for our face and releases chemicals inside our body that is good in our health. In this story Tsundary is troubled as she cannot control her laughter and decides to do something about it.
Author: Meera Ganapathi Illustrator: ROSH
Text and Images from लड़की जो हँसती जाती
मममबबरररफफफबहबहबहाहाहाहाहाहाहाहा
का 4 बी म एक व फ़ोटक आवाज़ फूट पड़़ी।
गणत क
अयापक गंडु पा सर अ'छ तरह जानतेथेक यह
बम कहाँफूटा ह।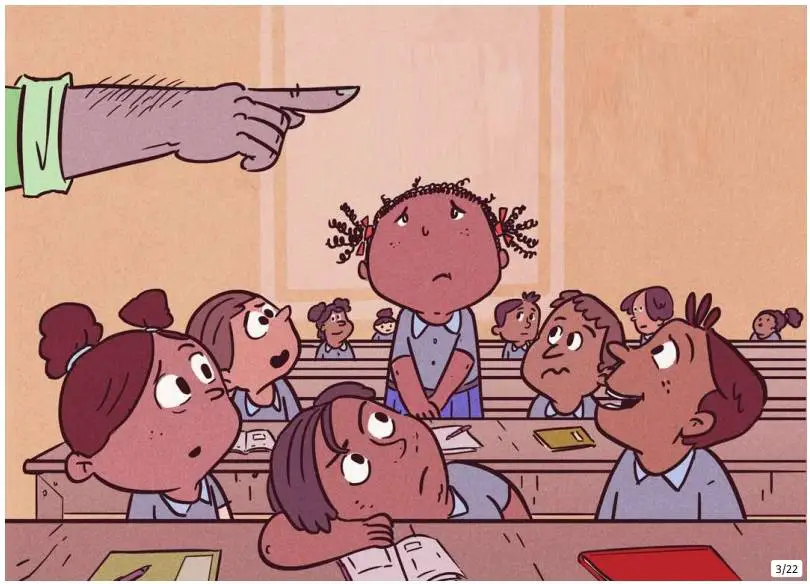 "ट. सुंदरी! आप ज़रा का सेबाहर चली जाए," वह बोले।
का म चु
पी छा गई। सभी ट. सुंदरी क: तरफ़ देखनेलग, जो
पाँचव बच पर बैठ थी।
"लेकन सर! लीज़ सर! मनेअपनी हँसी रोकनेक:
बत कोशश क: लेकन क नह पाई!"
का 4 बी म सभी ज़ोर-ज़ोर सेहँसनेलग।
<end of sample>
Read the full book by selecting one of the buttons below the post.
लड़की जो हँसती जाती English Version below:
A picture book about laughing
Read this book in English here.
See more Hindi stories below