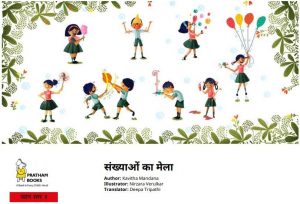 संख्याओं का मेला – Maths at the Mela Hindi – This books shows lesson in math for young readers. A school field trip on a fair where students soon discover that before they can go and enjoy the rides they need to group them selves into twos, threes and four. To avoid counting which will take long to get to an answer, the students uses division instead.
Author: Kavitha Mandana, Illustrator: Nirzara Verulkar
Text and Images from संख्याओं का मेला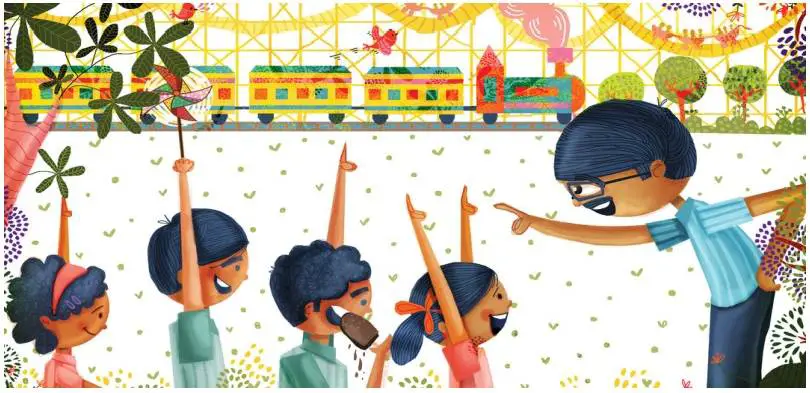 लीलूचौथी क ा के व थय केसाथ मेला देखनेगयी। कुल मलाकर छस छा!
सर बोले,"जस कसी को छोट रेलगाड़ी म*घूमना हो वह अपना हाथ उठाए।"
सभी एक साथ च4लाए,"म. . . म, सर. . .म!"
इससेपहलेक छस केछीस छा उसमबैठ पाते,
छोट रेलगाड़ी मबैठनेक जगह ही नह बची।
फर गाड़ी नेज़ोर क सीट मारी, और चल पड़ी।
चौथी क के बचेए वथय को अगलेचकर
का इंतज़ार करना पड़ा।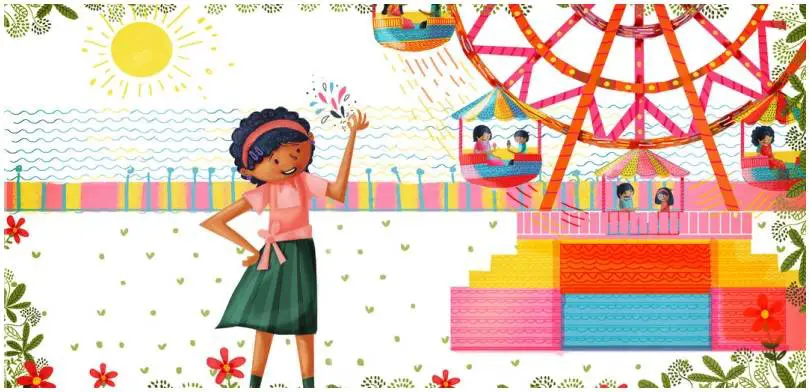 इसके बाद बारी थी बड़ेसेपहयेजैसेगोल घूमनेवालेझूलेक सवारी क।
झूलेम*कर्इ डIबेथेऔर हरेक डIबेमदो लोग के बैठनेक जगह।
लीलूनेदेखा क एक Jटकट दो लोग के लए है।
इससेपहलेक सर बMच क गनती शु करत, लीलूनेझटपट
अपनी क  के बMच को दो-दो क जोड़य मबाट Jदया-
"२, ४, ६, ८, १०, १२, १४, . . . ३६!"
Jटकट वालेनेपूछा,"कतनेJटकट ह5आपके?"
"१८," लीलूनेजवाब Jदया।
<end of sample>
Read the full version of the book by selecting one of the buttons below the post.
संख्याओं का मेला English version below:
See the English version using these links.
See more Hindi stories below