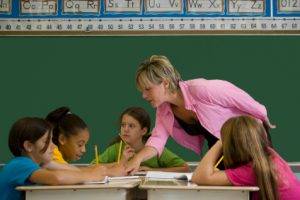 According to research at the Center for Disease Control and Prevention, 1 in 54 children are diagnosed with Autism Spectrum Disorder or ASD in the United States alone. Children with ASD usually experience learning setbacks and attention deficit disorder or ADD, on top of dyslexia and potential mental issues related to the diagnosis (not always the case). Communication for kids on the spectrum is usually an issue, while social impairment and repetitive behaviors are also common.
Of course, kids with ASD are placed on different degrees of the spectrum– some of them rank high on the spectrum, while others rank lower. While ASD is a more common diagnosis for boys, girls can find themselves on the spectrum as well.
Here are 10 activities and resources for teachers to help children on the spectrum communicate more easily, become more involved in social activities, and learn how to work with their sensory input.
Activities for Developing Social Skills
Your first goal should be social skills development. This is very important for kids on the spectrum, especially if they're socially anxious.
The name game.

Kids sit in a circle, facing each other. The teacher starts by saying "hi" and then their name. Then the teacher points to another kid in the circle and asks them to do the same. This game is great for kids' social development, since it teaches them how to be open and communicative. The name game also teaches kids their classmates' names, so it helps them make friends more easily; it teaches them how to say 'hi' to someone and start a conversation.

How would it feel to….?

Another social game that develops kids' emotional abilities, this game asks students about themselves and helps them develop their awareness. Start by reading your favorite children's book, for example, Little Red Riding Hood. As you're reading the story, stop and ask questions. The questions should relate to the characters' emotions. For instance, you could ask, how would you feel if you were the little red riding hood and were attacked by the wolf? This develops empathy.

Sharing is caring

. It's time to teach kids to share something with the class. You could have them bring something valuable to class, and then share it with their classmates. They might get really excited and even make new friends!
Strategies to Help Them Cope with Sensory Stimuli
Children on the ASD spectrum are more sensitive to sensory stimuli. They're usually hyper aware of them and that could potentially interfere with their daily activity. Below you can find some activities and strategies to help them be more comfortable from this perspective.
The vegetable paint stamp game

. You're helping kids create art and help them stay focused, both at the same time. Here is how it goes. Buy some veggies and bring them to class. You could choose any veggies that you like, such as potatoes, cucumbers, peppers, etc. Next step is slicing them up into smaller pieces and pressing them into pieces of paper. Let students play with these stamps and transform them as they wish.

The scientific experiment.

Look up recipes online and have fun cooking during class. You don't have to cook anything complicated. Let them touch the fruits and veggies, this will be good for their sensory input. Then ask them for feedback afterwards. You could look up recipies online to get kids-friendly recipes for your class.
Resources to Help Them Calm Down
Prevent kids from feeling overwhelmed by preparing some calming activities. These ideas could help them feel less anxious and more grounded.
Try meditation exercises. Teaching kids how to meditate is a great way to bring awareness and mindfulness to the present moment. This will help them calm down whenever they need it. Start with short meditation sessions (2-3 minutes tops) and help them focus on their breathing, recommends Topbritishessays. Slowly increase the time and expand the techniques as you go.
Listening to calming music always helps

. Another idea to help kids on the spectrum calm down is listening to calm music. This usually involves listening to classical music or even jazz. Nature sounds are also calming. You don't have to let the music play for long, just until they start feeling better. Too much music might be overwhelming for children on the spectrum.

The calm down toys. Sensory toys help children with ASD calm down. You could try bringing stress balls, soft blankets, or play dough to class, and use them when needed. Personal statement writing service specialist, Craig Johnson, argues that aromatherapy pillows also work.
Teaching Strategies that Always Work
As a teacher, you might struggle to help students stay on top of their work. Working with kids with ASD can be challenging, but the outcomes outweigh the challenges for sure. Here are two essential strategies that work.
Try a SMART approach

. If your students have a hard time staying focused on school, you should try the SMART approach; it always works and it helps them stay concentrated on the work at hand. Sit down and set goals that are specific, measurable, attainable, relevant, and time-bound.

Bring something of interest to the class

. To make students more excited about learning new information, bring something they like to the class. For example, if a student is passionate about planes or boats, bring Lego and let them play just before teaching your lesson (or after!).
Wrapping Up
These activities and strategies should help the kids stay connected to the lesson at hand. It should help them stay focused and develop their communication abilities. It would also make them more open and pro-active. Good luck!
Author Bio:
Thomas Lanigan has work experience for 4 years as an essay writer specialist, social media manager, journalist, and editor. Also, he works for an essay writing service UK and writes on topics such as blogging, marketing features, progressive education programs, business. You can access this link professional essay writers to connect with Thomas.