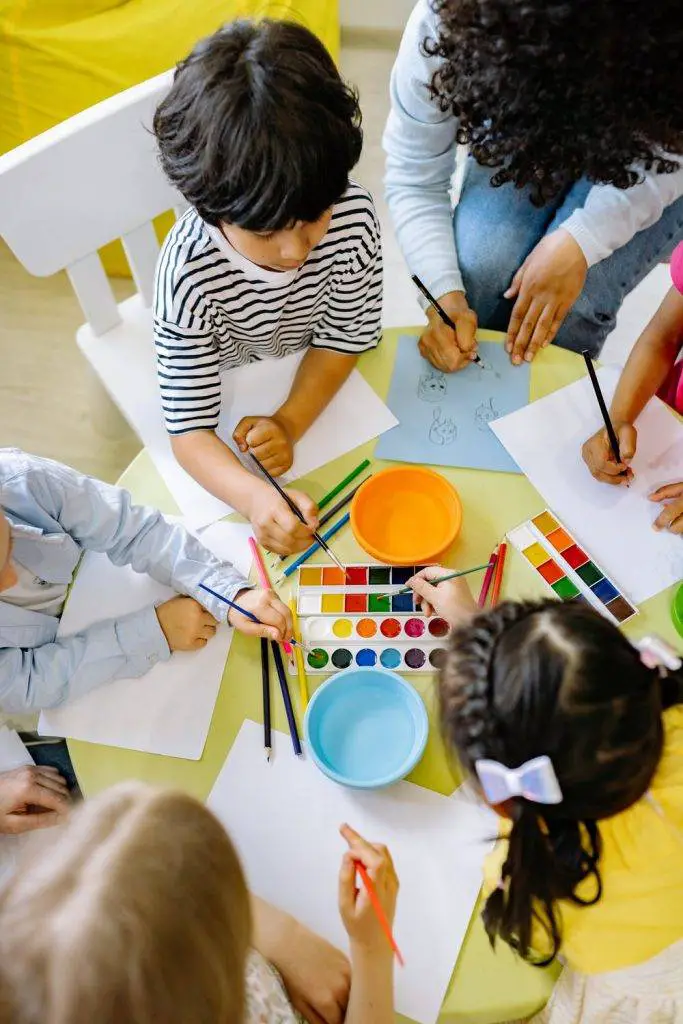 Rain, rain, go away, come again another day! The youngsters complain that it is boring. When it is too wet and chilly to play outdoors, what do you do? It may seem like a wonderful idea to snuggle with a movie on a rainy day, but it is also a great time to play with your kids. These 15 indoor activities are sure to keep your kids busy and engaged all day. 
1. Word Search
Besides being entertaining, word searches assist youngsters in concentrating on the correct spelling of words. It can be a solitary pastime or a social one, depending on your mood and the people you spend time with.
Word puzzles can be written out on paper, or you can search for pre-made puzzles online. There are also printable word searches for kids, which you can easily download and play.
Let us see who can come up with the unique terms first! With this exercise, kids learn new words while having a great time!
2. Organize a Puppet Show
Putting on a puppet show is an excellent choice for children who are imaginative and creative. They can use a variety of talents to develop characters, settings, and narratives. You can purchase a few puppets at the store or construct your own out of cardboard boxes. Children's favorite books or films might inspire puppet shows, or they can be unique.
The film Frozen is an example of a film that might serve as an inspiration for a story. By putting together their puppet presentations, children can gain valuable knowledge about narrative and communication. Each participant must spend at least an hour or more developing their characters, narrative, and backgrounds.
3. Bake Cookies
Not only is baking cookies delicious, but it can also help youngsters develop arithmetic abilities such as fractions. Allow them to measure the ingredients, pour them into the prepared pan, and decorate the finished product with icing or sprinkles.
Decorating might be the most enjoyable aspect of the process! If baking becomes a regular rainy-day activity, their decorating abilities will continue to improve. Everybody will have a good time trying this concoction.
4. Play the Game of Twister
Twister is a traditional game that you almost certainly played as a youngster. It might be enjoyable to play games with your children that you used to play when you were little and share those memories.
Twister can assist youngsters in developing flexibility, learning to follow instructions, and collaborate with others. It can also assist young toddlers in learning their colors. This game is simple to set up, and the children will almost certainly want to play several rounds.
5. Paint
At any age, art can help you develop your creative abilities. Many children's favorite art activity is painting. Paint their favorite animal or anything else creative on the wall!
They will like having their art displayed in your home, and they can choose to continue this activity at home as well.
An art easel is simple to assemble and gives the user the feeling of being a true artist. Display some of their crafts on the refrigerator or walls to remind them of the fun they had.
6. Hide and Seek
Children love playing both the "hide" and the "seek" roles in this popular game. The hider must first choose a suitable hiding area, and then the seeker must attempt to discover them.
You will be astonished at the variety of possible locations for a concealed cubby.
Hide and seek can amuse youngsters for a longer period than you may believe. Simply label any areas of the home that you want to keep off-limits.
7. Play Cards
Remember the card games you used to enjoy as a child? Why not teach your children the same fantastic card games and see them enjoying them in the rain! You can also play UNO.
8. Make Paper Planes
To build paper aircraft, all you need is paper and pens if you want to adorn them.
Fold your paper aircraft first, and then let the children sketch the pilots and passengers peering out the windows. Then have a fun competition to see who can fly the farthest!
9. Create Unique Cards
Everyone enjoys receiving a personal letter/card in the mail these days, especially since they are becoming rarer! This would make an excellent present for grandparents, friends, or cousins.
Create a card to mail or present using stamps, glitter, and paints. This is an excellent chance for older children to polish their handwriting!
10. Micro Treasure Hunt
Make a list of household items, then each participant is given a matchbox to fill and ten minutes to locate and fit as many little complete items as possible inside their matchbox. A paper clip, a safety pin, a pea, a button, a piece of Lego, or a bead are all examples of little items that might fit within the matchbox.
11. Indoor Scavenger Hunt
Compile a list of objects located around the home. The youngsters then have to locate and photograph each item on the list! Create your ideas or utilize our indoor scavenger hunt list as a jumping-off point.
12. Dress Up Games
Allow your children to use their dress-up items if they have them, but the more enjoyable option is to let them go wild in your wardrobe! Bring out some older clothing and fake jewelry or accessories, and your child will have a blast running around in them.
13. Make Scrapbooks
Provide your youngster with some vintage images. They will enjoy creating unique scrapbook pages for you to include in your scrapbooks. Supplies required include vintage photographs, art paper, glue, glitter, and stickers, as well as anything else you have on hand.
14. Make a Racetrack
Increase the extent of your rainy-day activities by using masking tape to create a massive race track. Children then get exercise by holding competitions to race around the track the fastest. This is a tremendous hit with children of all ages, even adults!
15. Singing and Dancing
Everyone enjoys singing, and it is much more enjoyable when done in the rain. Extend your singing to the outdoors and sing your favorite song. Consider dancing around your yard. If it is not windy, use an umbrella to maximize the impact. If it is too cold try indoors singing and dancing, Mom and Pop can do judging to see who is the best.
Conclusion
Activities on rainy days do not have to be restricted to the inside. Allow your children to play in the rain or create some of these fun inside activities. There are several thrilling and enjoyable activities available. Additionally, if you are insistent about remaining inside, try participating in the activities listed above. Your children will undoubtedly have a great time!