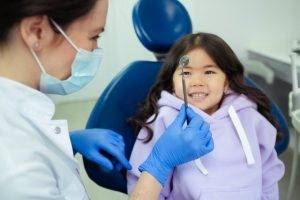 Going to the dentist is not always smooth sailing, especially for children. It is not exactly the most inviting idea – going into a building to have a stranger put random noisy tools in your mouth – so it makes sense that a trip to the dentist is not many people's favorite thing to do. 
However, visiting the dentist can be far scarier for children; they might not yet understand the ins and outs of what's going on and why they're there, seeing new people can be nerve-wracking, and having little autonomy over what happens in their life means they're often forced to go to a dentist appointment against their will.
Obviously, going to the dentist is for the benefit and health of children, but helping them see that they have nothing to be afraid of is just as important as the checkup itself. As such, this article is here to recommend several children's books on dentistry, which will help them feel a little more settled about their next visit to the dentist.
Dentist Trip – Peppa Pig
Peppa pig is a well-known icon for children, so having a trusted character experience the dentist where everything works out can greatly comfort them. The book is filled with pictures illustrating common procedures that happen at the dentist while Peppa pig has a checkup and George watches. It is George's first time at the dentist, and he is a little nervous, but the whole experience puts his mind at rest.
The Tooth Book – Dr. Seuss
The Tooth Book was created by famous and much-loved children's author, Dr. Seuss, who is a household name when it comes to kids' books. This book, in particular, covers all of the different aspects of people who do not have teeth, people who do, and how you can take care of them. Overall, it's a solid all-around book for children who want to know more about teeth.
Brush, Brush, Brush – Children's Press
The Brush, Brush, Brush book was written for the younger audience who are just discovering brushing their teeth. It's a fun rhyming book explaining how to brush your teeth and why doing so is so important. 
Introducing this book to your kids early on means they'll be more aware of the process of brushing their teeth, why they do it, and what experiences – such as visiting the dentist –  might entail. This knowledge helps ease their concerns about their first checkup at the dentist, making it a lesser shock to the system when the time comes.
Conclusion
If you have a particularly nervous child or one that is apprehensive about visiting the dentist, make sure you choose a family practice dentist that has experience with children, such as bafdentistry.com. That way, if you do have a worried child on your hands, the dentist will be fully equipped and competent in dealing with any issues and making them feel safe and calm.
Going to the dentist is essential for all children, and arming them with knowledge about dentists, the process of an appointment, and why it's important to maintain toothcare will help them feel less nervous about their visit – especially if it's their first time. By offering your child age-appropriate books on dentists and teeth, you'll be preparing your child for a stress-free checkup.