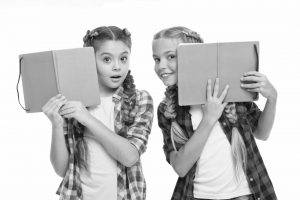 Learning languages is important in today's world. It is necessary to know the basic rules to speak well. It relates both to native and foreign languages. English is a global language. And it is a substantial skill to know English well. When should you start working on your level of English? 
You need to start from the very beginning. Being a child, you if your kids should feel in love with the language. It is important to show children why they need to learn English. Will they benefit from it in the future? Will they be able to express their opinions and ideas to others better with important knowledge? 
If you are a parent, you need to show your kids the importance of learning a language. But using boring methods isn't a good idea. Professional academic essay writers from SmartWritingService.com offer a list of 5 books to make a learning journey funnier. 
With these books, your kids will love reading. They will think better and will be able to communicate with others. Let's see what are the best books for learning English at a young age. 
Top 5 Books to Help Children Develop Their Reading and Writing Skills
The list of books consists of 5 items. Some of them are less challenging, while others are for advanced readers. You can start from the beginning and move on. 
1. "The Very Hungry Caterpillar"
Let's start with this one. It is an enjoyable book about a caterpillar. The creature is fond of unhealthy food. But then decided that it is time to change something. The reason is the transformation in a butterfly. Thus, the caterpillar opts for healthier options. 
If your child doesn't know basic things, like numbers, colors, weekdays, or food choices, this book would be great for the beginning. By reading the story, a child will easily remember all the new notions. In the book, the concepts are often repeated. Therefore, it is easier to remember them. 
2. "Goodnight Moon"
It is a charming story about a bunny. The animal says goodbye to every single thing in the room. It sounds sweet and is worth reading. Your child won't feel much pressure from the book. All sentences are short. Therefore, it is easier to concentrate on new words. 
The words are also repeated here. The story is using the same words throughout the whole book to let the kids remember the concepts better. This is why the book is perfect for beginners. 
3. "Where the Wild Things Are"
This one is more complex. If you can manage the first two, this should be your next step. You can also find a movie based on the book. So, if you enjoy reading a book, you can watch a movie then. Wild Things are the monsters. The main character whose name is Max meets them in his room. 
The book is written simply. You won't get confused about the plot. Every event is clear for the young reader. But the vocabulary can be a bit more complicated, than in previous books. This is why this book is a more advanced variant for children. 
4. "The Giving Tree"
Another more complex book about a boy and a tree. These two are companions. The book is quite popular among children. The story is written very coherently. But it is still quite meaningful. This is why kids enjoy reading it. 
The book is great for children who start their reading journey. The events aren't complicated. Everything is easily described. Therefore, the reading is smooth. But you still need to follow the story to understand what's going on with the main character. 
5. "The Cat in the Hat"
Let's finish this list with a nice book that will perfect your knowledge of English. The story tells us about kids and a cat. The cat's behavior is extremely bad. It is a very mischievous creature. The book is interesting to read because the story takes your attention from the very beginning. 
But be ready to find enough time and concentration for this book. This is the longest one. But on the other hand, the book offers quite a wide range of new words. The vocabulary is great for children. If you are done with the easier books, this should be your choice for the next reading experience. 
Let's Conclude 
Reading books is crucial. And you should teach your children to read from a very young age. Reading different stories has so many benefits. Your kid can become more fluent in reading. Therefore, he or she will develop writing skills and will write essays better. Furthermore, it is a great exercise for speaking. With a wide range of words, your child can impress others with a well-structured speech. 
There are lots of books on the Internet. You need to show your children how wide the range of options is. It is necessary to use funny ways to make your kids read. It is an interesting and necessary experience. You shouldn't stop if the list of our books is over. It is a great list for beginners. But when you overcome the first stage, you should expand your vocabulary. 
Don't stop reading and teaching your children to read. It is a great thing. And it will enhance their reading, writing, and other important skills at a young age.