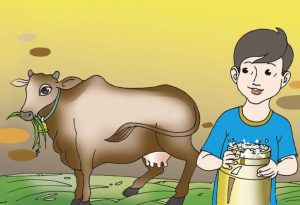 Does milk come out of a packet or out of a cow? children's book about visiting a farm When city boy Raju visits his Ajji's farm in the village, he watches Ajji milking her cows. Raju loves the sight of the fresh milk frothing in the bucket, but there is something he enjoys even more.
Moo Moo Brown Cow is an entertaining tale about how milk is farmed in the country.
This is rated as a Level 3 book by Pratham, for children who are ready to read on their own, or for reading to children at storytime. This book may provide a great example for biology and cultural study and school exercises about farming.
Author: Jayashree Deshpande Illustrator: Srikrishna Kedilaya
Sample Text from Moo Moo Brown Cow, Have You Any Milk?
Raju lived in the city. But in the summer, when school was out, Raju headed straight for his Ajja's house in the village.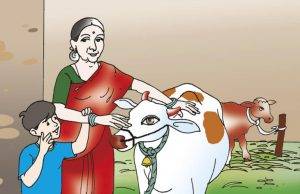 Every summer, he learnt something new at Ajja's house. This time, he was to learn that in the village, milk does not come out of plastic sachets!
<End of page 2 children's book about visiting a farm >
About Pratham, Read India
Pratham Books was set up in 2004, as part of the Read India movement, a nation-wide campaign to promote reading among children. Pratham Books is a not-for-profit organization that publishes quality books for children in multiple Indian languages.
Pratham's mission is to see "a book in every child's hand" and democratize the joy of reading.
This is a level 1 story from Pratham's Storyweaver platform.
See more books from Pratham in our Pratham-Storyweaver category.
See more books at this reading level in our Intermediate English category or sort by Age 6 – 9 Years old.
---
Sponsored Links:
Note – if you sign up through these links, it doesn't cost you any extra, but FKB receives a small donation, which helps us move towards our aim of
FREE Hardcopies!  
All our posts are checked by Grammarly, the FREE online grammar checker (We still receive a donation even if you only sign up for the free account :-):


This site is hosted by Bluehost:

Leave a comment (it won't be public) if you want help getting your own website cost-effectively.