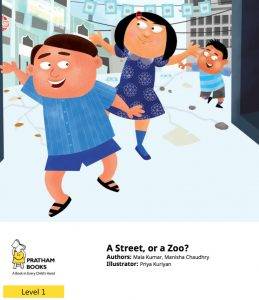 Three children are playing in the street, where they happen upon several different animals. Is it a street, or a zoo? Find out what they do with the animals they find in this cute story for young children.
Sample Text from A Street, or a Zoo?
Sonu, Monu and Rina set out to play.
They saw a kitten.
She was looking at a big rat.
"Oh look!" shouted Sonu.
Rina saw a tiny ant going towards the big rat.
<End of sample text>
Read the full book of A Street or a Zoo by selecting one of the buttons below the post.
This story was brought to us by Pratham's Storyweaver platform, see more stories from Pratham below.