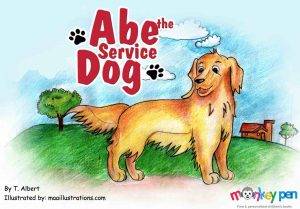 Abe was picked for a special job, he was going to learn how to be a service dog. And not just any service dog, Abe was going to help be the eyes for a blind person. this is his story.
Service Dogs are smart, well trained, well behaved, dedicated, and committed to ensuring their master is safe. They are sometimes the eyes of their master, a companion and aid to the mentally challenged, and an early warning system for those with seizures and other intermittent disorders. This book is intended to bring an awareness of their importance to early readers.
Sample Text From Abe the Service Dog
"Hi, I am Abe and I am a Service Dog.
When I was a puppy, my owner told me I would be a Service Dog for a person who could not see. I didn't know what that meant,
but I knew it was something special.
When I got a little older, I was sent away to school.
<End of page 3 of 19>
To read the full book select the one of the buttons below the post.
This book was brought to us by MonkeyPen. If you want a customised book featuring your child, head to the Monkey Pen Website. They do an awesome service personalising books featuring your child, available for any book on their website.
See more books from Monkey Pen below