I've discovered "Alphabet Baking!" – a really great way to teach letters to hungry toddlers! Let them cook and EAT the letters 🙂
Wouldn't you so look forward to baking if your child gave you this?
The first project we made was cookie letters. Not only was it great for learning letters, it also was great for fine motor skills, and using recipes also teaches maths (measurement), reading and following instructions. If you're homeschooling this is a complete lesson for two age groups!

1. Cookie Letters 🙂
We started out the Saturday morning at around 6am with my daughter's request to "Make cookies!", 🙁 The kids were always up at sparrows f*&t at that time, but since my normal workdays started at 5am – up at 4 – it was bearable)
….figuring I could barter off some homework by agreeing and delay eating them to around 9am…with breakfast finished, we started the cookies.
Half way into the process my mind had been wandering about a blog post I needed to write, and an idea was born:
Why not make letter cookies?
Learning and tasty! My eldest loved the project , (her initials,  fame :-), and it taught fine motor skills. My youngest loved it too (cookie dough, who wouldn't?), and he proved to me he knew more letters than I thought (S for his name, Z for his sister :-). It was a wonderful learning experience,  and we all had so much fun.
Steps to Baking Alphabet Cookie Letters
Start with any 'thick' cookie dough recipe.

Roll out the cookie base in around 1/2 cm thick sheets and cut or shape letters from the base using either cookie cutters or a knife. Alternatively roll and shape letters by hand. Both techniques are a bit like one would do with play-dough.

From there, just let the kids have fun creating their own doughy cookie letters!
Once letters are complete, use a spatula to transfer the cookies from the cutting board to the baking tray to avoid breaking the letters.
Bake and Eat!
(Note: it is most likely easier, albeit less fun, if the cookies do not have chocolate chips or nuts in them, as they create easy breaking points.)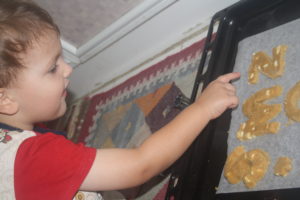 Follow the cookie recipe bake times, but remember bake times for cookies are usually only around 15 minutes maximum, so it may need LESS BAKING TIME –  don't leave them unattended!
Once cookies are ready, there is no reason why one can't ice and decorate them also, just because they are not a cake, doesn't mean they can't be decorated!!!

Here's the recipe we used today. I must say, by some very good luck, it was both one of the nicest cookie recipes I've tried so far, and seemingly awesomely simple – no fail – as I'm not much of a baker, eg sifting doesn't really come into my vocabulary. The coconut flour made it both healthier and much tastier too.
Choc Chip-Macadamia Recipe
½ cup flour plain, ½ cup flour coconut

1/3 cup sugar brown, 1/3 cup sugar white/caster

1 egg

½ cup butter

1 tsp vanilla essence

pinch salt

½ tsp baking soda

1/4 cup (or as needed) of white choc chips

¼ cup or as needed of macadamia nuts
Mix all the ingredients together to form a dough then roll out!
Note: all this sift, add before after stuff is way too hard for me…I just mixed everything together in a logical order – eg adding flour to the wet stuff is way easier than adding wet stuff to the flour. And if that way if it's too wet you just simply add more flour.
As I mentioned, good luck.
2. Meringue-phabet
Our second letter project was even more successful – meringue-phabet.
A bored Saturday request for "Meringues!!!" had me coming up with a cunning, but simple plan….
SIDE NOTE: I've become vegan since a health scare, but reading the China Study (available on Amazon), I believe 5% or less is exceptable, and this is one of my exceptions….I've managed to avoid butter (olive oil butter only now, tastes great!) milk (koko – coconut milk awesome substitute tastes even better than milk, the kids love it!), and even cheese sauce (see my super easy Vegan cheese sauce recipe!), but, merringue right now I make an exception.
Steps to Alphabet Baking Meringue Letters
Make a meringue mixture (see below)


Put the meringue mix in a plastic bag (NOTe: make sure your 8 year old knows this is done BEFORE cutting the hole….)
Cut a hole in the bottom of the bag
Pipe your favourite letters, numbers, words
Bake for 10-15 minutes on low heat
Once cool: decorate with cream, chocolate, fruit, as desired and eat!
SUPER-EASY NEVER FAIL MERRINGUE AND PAVLOVA
I'm a kiwi originally (although I now call Africa home), there's some thing us kiwis find hard to get out of the system – vegemite, rugby, and if course pavlova, or meringue.

But the thing I love most about meringue is how easy it is. 
can't help reverting to making meringue whenever I need a quick cooking project, or get persuaded by the kids begging. It's so sugary kids love it.
I so hate super cook Moms telling me something is super-easy, then the first step is "sift" or something equally hard followed by 15 other steps….lol sure that's an exaggeration, but for me super easy is a two or three step process that my eight year old can get right.

So, I honestly have this super-easy, really quick, 'never-fail' meringue recipe.
1 egg white per 1/2 a cup of sugar : Yes that's it!

Beat the eggs adding the sugar, (slowly, all though we all laughed when my 4 year old thought a 1/2 cup at a time was slow, and it still worked)

Bake slowly watch the colour till it's done, around 110 degrees, turn off once it looks right, usually about 30 minutes for pavlova – but 15 for letters or smaller meringues, and leave in the oven to cool.
After that if you put in a pinch of cornflower, or a bit of vanilla, or some vinegar, to me it never made much difference, although the vanilla should add some flavour.
I've used this for meringue and pavlova (a meringue cake), and both work fine. With a time of about 5 minutes, lots of fun bowl licking time, and a really quick cake for occasions if you're in a hurry.

3. FREE ALPHABET BOOKS AND FILES ON FKB
If you're doing alphabet baking – these books are perfect study buddies!
Don't forget to check our blog for more updates, and feel free to subscribe. You can also follow us in facebook, twitter, pinterest and Instagram. Merry Christmas.