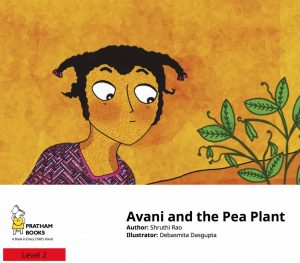 Avani and her Amma are making food, a pea escapes their notice and rolls out the door, the story unfolds as the pea finds a way to grow into a pea plant. Try planting a seed for yourself in the activity at the end of the book.
Author: Shruthi Rao, Illustrator: Debasmita Dasgupta
Text from Avani and the Pea Plant
One day, Avani was sitting at the kitchen table, watching her mother cook. Amma got the cooker ready.
"Avani, please give me the peas," Amma said.
Avani took a bowl of dried peas from the kitchen table and gave it to Amma.
One pea fell out of the bowl. Avani and Amma did not see it!
The pea bounced on the table, onto the floor…
… and rolled under the table.
Chikki the cat found it.
She pushed it. She pawed at it.
She tried to lick it.
The pea rolled to the kitchen door.
Chikki pushed it again. It rolled out…
… into the garden.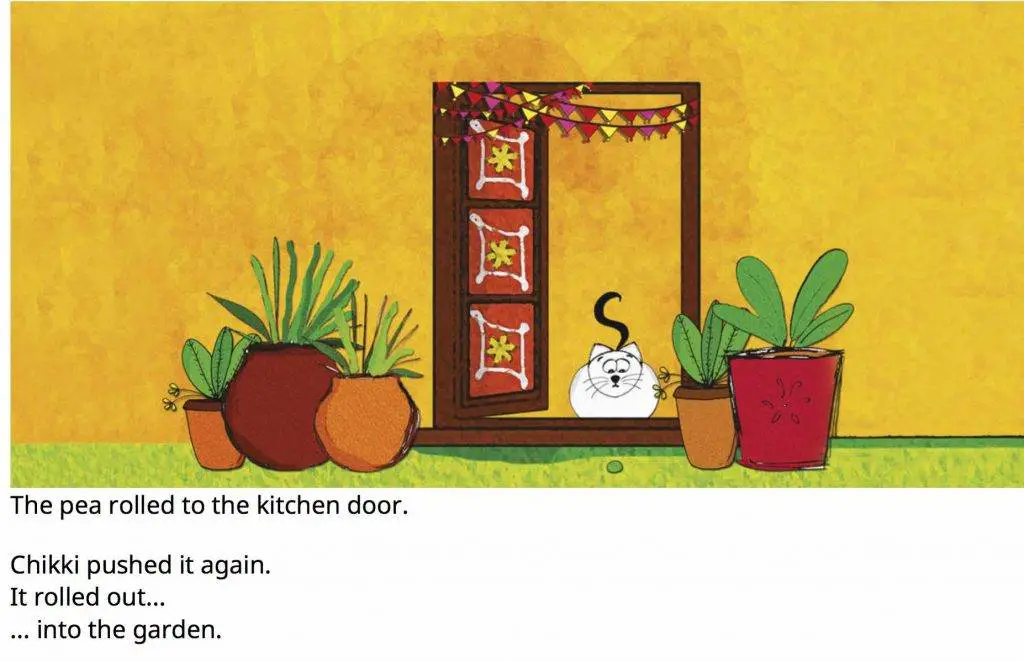 A mynah saw the pea. She pecked at it with her beak. But it was too hard.
She pecked at it again. With a jump, the pea landed on the soil, near a tomato plant.
An earthworm popped out of the ground. It looked at the pea, but did not find it interesting. It popped back into the ground.
Now there was a hole in the ground!
The pea slipped into the hole, and got covered by loose mud. It rested in the cool, dark mud.
The days passed. The rains came.
The pea got wet. It swelled, and it swelled a little more.
It grew a tail…
… and a crown.
The crown shot out of the ground, and tried to reach for the sun.
It grew taller… and taller… and taller!
Avani saw it when she was playing in the garden.
"Amma! Look here!" she said.
"A pea plant!" said Amma.
Both of them looked at the pea plant. They were surprised.
"Did you plant it?" Amma asked Avani.
"No Amma, did you not sow it?" asked Avani.
"Then, who did it?" they wondered. "Who planted it?"
You and I know, don't we?
Try it yourself!
1. Plant a seed in a small pot and water it every day.
2. Does it grow if you keep the pot in a dark and cool place?
3. Many sprouted seeds and grains are very good for our health. Which sprouts do you like to eat?
<End of text>
Read the book along with pictures on the buttons below the post.
This book is rated level 2 by Pratham, suitable for emerging readers.
This is another great book from Pratham and their Storyweaver platform, enjoy more of these books below: