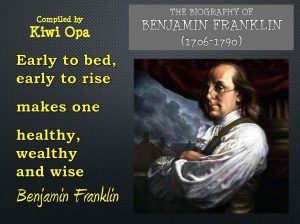 Benjamin Franklin was an amazing person, statesman, businessman, author, philanthropist, and inventor, with his achievements from the declaration of independence to contributions to discovering electricity.  This biography tells all the events of his life, interspersed with activities for children to complete. This Benjamin Franklin children's book is great for a school or home school project.
Did you know Benjamin Franklin not only was one of the founding fathers of America, he also found time to start an insurance company, a fire fighting company, a hospital, a library, and create his own Akmanac, he invented a wood burner stove, bifocals, and a glass armonica.
See more biographies for children in our Biography Category.
See more non-fiction books for children un our Non-Fiction Category.