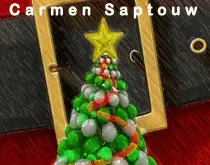 A father convinces his children to help him decorate their Christmas tree in the hope that they will remember the true joys of Christmas Time. This beautiful Christmas rhyme is perfect to share with the entire family during this festive time.
By: Carmen Saptouw
Excerpt: Christmas Time The little boy played outside, When the sound of a jingle bell travelled to his side, He smiled and shouted, "Sister can you hear? Christmas is near, a time for presents, Santa and reindeer." His dad who stood in the door now moved closer to lend an ear.
About the Author: Carmen Saptouw  As a young child of only 8 years old, I was inspired to write children's stories. Following my childhood years, I got so involved with being a teenager that I  completely forgot about my passion for writing.
Only in 2011, the year I turned 29, was my  passion reawakened from its deep slumber when my dad found the stories I had written as a  child. So more than 20 year later I rewrote the stories with the aim to preserve it, but as I  typed, the stories evolved and new ideas were sparked.
https://talesbycarmensaptouw.wordpress.com/
https://www.facebook.com/Tales-by-Carmen-Saptouw-1605472676350173/