As a result of the Covid-19 pandemic, businesses and organizations worldwide have been forced to move online, including many schools that are relying on remote learning. This means that millions of parents are sharing their workspace with their children for the first time.
Working from home can be stressful enough without the added pressure of monitoring your kids' school work, helping them set up Zoom calls or discovering they've used up all the printer supplies printing off activity sheets just when you need to print an important report.
However, with a little thoughtful planning, a communal parent-children workspace can function harmoniously. In this handy guide, we share our tried and tested tips for creating an efficient shared workspace for you and your family.
Define the Space
The first step to reaching a balance between home, work and school is defining your space. This means dedicating specific areas in your home for work or study. Ideally, each family member would have their own room where they can close the door to work in peace. Unfortunately, this is not a reality for many families.
If you know you have to work simultaneously, you will need to have multiple work surfaces. This could be a couple of small desks or even different ends of the same table. If you are limited on desk space, try using desk-dividers to give everyone some privacy and reduce distractions. This allows both parents and children space to focus and lets you help them with their schoolwork when necessary.
The crucial thing is that when you've found the right space, everyone understands that it is a work-only zone.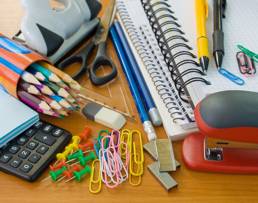 Never Run Out of Supplies and Equipment
If you're working from home for the first time, you may not own all the necessary equipment. Discovering that you've run out of printer supplies or coloring materials just when someone in the family desperately needs them could lead to a meltdown.
Avoid this stress by having a family meeting to discuss what supplies everyone needs to work. Then, take time at the end of every week to check if anything is running low. If you have younger children, make sure to check in with their teacher about any upcoming special projects where specific items might be needed, such as holiday crafts. Here are some ideas to get you started:
Stationery, including pens and pencils, crayons, paints, highlighters, post-its, notepads, staplers, glue sticks, paper clips, scissors and binders

Printer supplies, such as a printer, paper,

Canon ink cartridges

and toner

Craft items like popsicle sticks, pom poms, craft paper and pipe cleaners

Scanner/copier

Laminator

Calculators

Shredder

External hard drives/thumb drives
Choose Space-Saving Furniture
Although your kids might love the idea of working from their beds, having a proper surface and decent chair will increase their concentration and be better for their posture.
For many of us, space is a concern when creating work or study zones, but there are lots of space-saving solutions available. Mounted desks that fold flat against the wall, desks that double up as shelving and desks under loft or bunk beds are all great ways to make the most of your space.
Keep Your Space Clear
If you're sharing a workspace, and particularly a desk, it's easy for everyone's work to get mixed up. Get everyone into the habit of clearing their desk when they finish for the day, leaving it nice and tidy for the next person.
To ensure that papers don't start popping up around the house, assign everyone their own drawer, shelf or container where they can keep all their work in one place. Make it fun by having the kids design personalized labels for their drawers.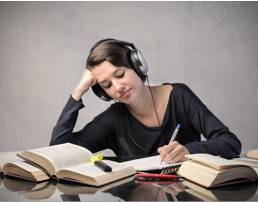 Block Out Distractions
Working from a space you also use for relaxation is never ideal, but you can improve your focus and productivity by blocking out as many distracting elements as possible. Avoid setting up your children's study space in the same room as a television or computer. If that's not possible, make sure their desks are facing away from these temptations.
Consider purchasing noise-cancelling headphones to block out household noises and other family members' video calls. If you enjoy working with music but prefer to be aware of ambient noise around you, bone conduction headphones might be a good fit. A white-noise machine can also work wonders for improving concentration.
If you're concerned about your teenage children visiting non-relevant websites during school time or find yourself prone to wandering on the web, you can install an app that only allows specific internet use during designated hours.
Invest in Good Lighting
Spending hours a day squinting at your work due to poor light is exhausting and bad for your eyesight. If you can't position your workspace near a natural light source, make sure that each work area has its own flexible reading light that each person can position to their liking.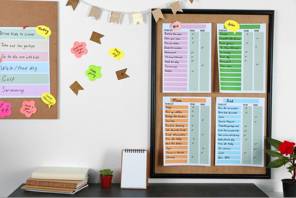 Set a Schedule
Organization and communication are key to sharing a space. To begin with, you and your partner may need to alter the times you work in order to share childcare responsibilities. But it's not only the parents whose diaries should be coordinated.
Set up a visual calendar where the whole family can see it. It should include everyone's activities for the week, including what equipment and space they need, particularly if you share computers. Displaying this information ensures everyone is clear about the shape of the week and allows you to anticipate any problems ahead of time.
Create a List of Boundaries
To successfully share a space, every member of the family must respect each other's needs, and the best way to do this is to set clear boundaries early on.
One example of boundary setting would be coming up with "do not disturb" signals for video calls, online exams or moments where deep concentration is needed. This could be anything from wearing headphones to a thumbs up or down sign on the desk.
Personalize the Space
Most people are missing their usual work or school environments and are finding spending so much time at home challenging. Finding a way to personalize your workspace to make it a more appealing place to be could significantly affect your productivity and overall mood.
If family members have their own desk, encourage your kids to display photos or pictures they like. If you share a desk, something as simple as a colorful pot for pens or a beloved coffee cup could make "going" to school or work a whole lot more enjoyable.
The Takeaway
Adjusting to working or studying from home takes time, organization and understanding. It may seem impossible at first, but by implementing these ideas, you can create a positive, efficient workspace that is respectfully shared by the whole family. It may take some trial and error, but if you keep at it, you're sure to find the system that works for your family.
About the Author
Tania Longeau serves as the Head of Services for InkJetSuperStore. Tania oversees a team of Operations and Customer Service Reps from the Los Angeles headquarters. Before joining InkJetSuperStore, Tania was a team leader and supervisor working for one of the biggest mortgage and real estate companies in the country. She is a happily married mother of one, who enjoys spending time with her family and reading in her leisure hours.
Image references
Firs Image Source: Es75/shutterstock.com
Second Image Source: Ollyy/shutterstock.com
Third Image Source: Africa Studio/Shutterstock.com