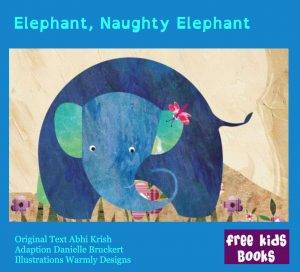 What is Elephant doing? And is he really naughty? Find out in this cute, beautifully illustrated text for young children. Repetition and simple language can also be useful for learn to read age.
Sample Text from Elephant, Naughty Elephant
What is Elephant doing,
can you guess?
Elephant, naughty Elephant,
what are you doing?
Why, I'm playing in the flower bed,
under the bright sun.
<End of Page 5>
Also available as an editable file, here: Elephant_Naughty_Elephant-FKB.odg – adapt and reshare in the same way!