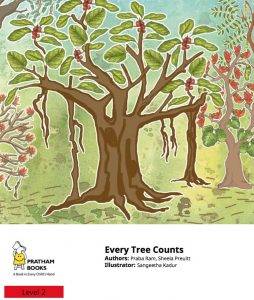 Every Tree Counts is a counting book with 10 different types of trees. Enjoy sharing the attributes of the different tree types with your child as you count each type of tree. Learning nature studies and counting all at once.
This is a level 2 book from Pratham's Storyweaver suited for young readers who love to learn new words with help from their parents.
Authors: Praba Ram, Sheela Preuitt
Illustrator: Sangeetha Kadur
Sample Text from Every Tree Counts – Counting Book
ONE Banyan tree with long, hanging roots, Stands majestic and wide all over the land.
TWO Palash trees in a cool garden, Sweet nectar for bees to drink.
THREE Pipal trees on a village street, Juicy figs for parakeets to eat.
<End of sample>
Read the full book by selecting one of the buttons below the post.
Read more books about counting below: