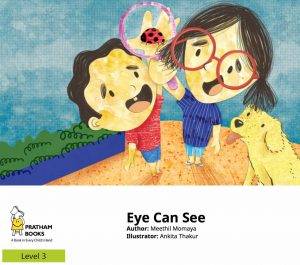 Eye Can See details a group of children's visit to their parent's laboratory and all the magnifying equipment they find. From magnifying glass to microscope, binoculars to a telescope, this book teaches children about all things magnifying.
Sample Text From Eye Can See
School is closed for summer.
Every day Chanda, Tinku and Motu have a new plan up their sleeves.
Some days they trek to the nearby hill. On other days, they play hide and-seek in the caves behind the house.
They plan to go stargazing tonight.
But right now, they are off to Chanda's Ma and Baba's laboratory. Chanda's parents are agricultural scientists.
Sharma Kaka, who is also a scientist at the laboratory, lets them in.
"Motu, please be as quiet as a mouse," says Chanda.
Tinku looks around—huge books, rice saplings, laboratory equipment.
<End of Sample from Eye Can See>
Read the full book by selecting one of the buttons below the post.
This story was brought to us by Pratham's Storyweaver platform, if you enjoyed this story, see more stories from Pratham below.