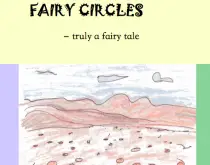 In Fairy Circles, a visit to the Namib Desert uncovers the mystery of fairy circles – that is, they remain mysterious! This is a magical tale of fairies and fairy circles in the Namibian desert, a collaboration between NaDEET and Free Kids Books, and all proceeds will go to NaDEET.
Fairy Circles is a perfect book for biology and geography studies, containing lots of information on Namibia, and on the curious life in the dessert. The book includes facts about fairy circles, and facts about Namibia, as well as some study questions at the end.
Sample Text From Fairy Circles
On the South West coast of Africa there is a magical place called Namibia.
My family and I are travelling there for our vacation.
Namibia is like a land that time has forgotten. The land has been untouched for so long, many people believe it has turned magical.
<End of Page 1>
About NaDEET
The Namib Desert Environmental Education Trust (NaDEET) is a non-profit, Namibian trust established in 2003. The NaDEET Centre is located 100 km south of Sesriem/Sossusvlei on the NamibRand Nature Reserve, and the head office is located in the coastal city of Swakopmund. NaDEET believes environmental education must not only increase awareness and knowledge but also eco-friendly attitudes and skills in Namibia's youth and educators to promote participation.
About The Namib
The Namib Desert is where Namibia derives its name from. It stretches the length of Namibia's West coast, and includes the infamous stretch of coastline known as the Skeleton Coast. It spreads inland from the coast up to the sharp rise of the escarpment, with the Tsaris and Naukluft mountains prominent border features.
The Namib is one of the most diverse deserts in the world, and may be one of the oldest. It has one of the largest number of endemic species of any desert  in the world. With the annual rainfall between 2mm and 200mm, depending on the area, it is Southern Africa's only true desert.
An increase in eco-tourism has seen many livestock farms in the Namib converted into wildlife sanctuaries, allowing the endemic species to thrive. Animals found in the Namib include the majestic oryx (or gamsbok), Namibia's national animal, large numbers of fur seal, the endangered desert rhino and desert elephant, and many more.
The Namib hosts some of the highest permanent dunes in the world. Dune 7 is approximately 1250ft high. The stunning Sossusvlei Valley provides opportunity to climb some of these dunes, with Big Daddy being the most popular for ascent, and a very close second in height to Dune 7 at approximately 1150ft.
About Danielle Bruckert
Danielle was born in NZ, and after completing her self sponsored commercial pilot's license, she set off with a backpack and a CV to Africa to follow her dream of becoming a bush pilot. In her early years as a charter pilot in Namibia, she fell in love with the Namib desert and the magical fairy circles that mark the countryside like spots on a handkerchief. She absolutely loved telling her guests about how, there was no conclusive proof they are not made by fairies. This book was inspired by her love of fairy tales, fairy circles, and the Namib desert, the only place that fairy circles appear anywhere in the world!
After falling in love with Namibia, Danielle's own story too had an almost fairy tale ending. She fell in love with a Namibian, became a Namibian citizen and made Namibia her permanent home. Free to enjoy the Namib desert more, Danielle and her husband now have two little Namibians of their own, who love traveling and hearing fairy stories, especially true ones. She loves helping anyone who wants to know more about Namibia or kids stories, especially if you're thinking about a flying safari – which she says, is the absolute best way to see the country.
Danielle is the creator and editor of Free Kids Books – leave a comment anywhere on the site, and she will get it. All other forms of communication right now are highly unreliable!
Danielle also loves misspelling desert as dessert – it makes her think of mountains and dunes made of chocolate sundaes instead of sand.
More information about Fairy Circles can be found in the following file courtesy of NamibRand:
NamibRand NR Symposium FRs M&K (Eugene Moll)