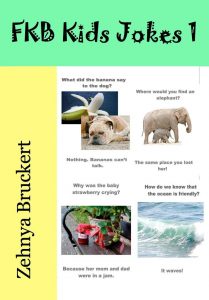 FKB Kids Jokes 1 is a fun selection of short cute and funny jokes with pictures. A joke book is a fun way to get kids reading. Kids love jokes, and these simple kid-friendly jokes are appealing to kids of all ages. Chuckle to yourself while reading with your child, or encourage a reluctant reader to get reading – for those reading independently just have fun with these cute jokes.
FKB Jokes Book features 10 very funny jokes which kids can understand, compiled by kids for kids, this book was written by Zehnya Bruckert, age 11, and is comprised of creative commons and public domain jokes and images.
Sample Text from FKB Kids Jokes 1
Why did the teddy bear say no to dessert?
Because she was stuffed.
<End of Page 1 of 10 Fun Jokes in FKB Kids Jokes 1>
Select read online or download to read the whole kids joke book here for free.
If you're looking for more jokes, see our Humour Category.
See more books by Zehnya Bruckert online at Free Kids Books here: https://freekidsbooks.org/author/zehnya-bruckert/.
---
All our posts are checked by Grammarly, the free online grammar checker (British English used):
This site is hosted by Bluehost:

Leave a comment (it won't be public), or contact me if you want help getting your own website cost-effectively.