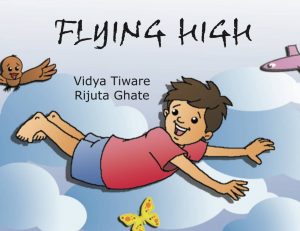 In Flying High, a young boy dreams he is flying high. A beautiful story for small children. The repetitive simple text  also makes this perfect as an early reader, for children learning to read.
Another great Creative Commons Book fro Pratham and Story Weaver.
Written by Vidya Tiware
Illustrated by Rijuta Ghate
Translated by Rohini Nilekani
Text From the Book:
Mother's song was soft and sweet.
Chandu was listening to it.
Chandu fell asleep.
In his dream, he was flying.
2
Flying, flying
into a garden.
Look! A butterfly, so pretty.
The butterfly said, "Well, hello! How are you?"
"Fine, thank you," Chandu replied.
4
Chandu flew a bit higher.
Flying, flying.
He flew into a sparrow.
"Hi there! How do you do?" she asked.
"Very well, thank you," Chandu said.
6
Then Chandu soared still higher.
Flying, still flying, he met an eagle.
Hello friend! How are you?" the eagle asked,
"I feel good/' replied Chandu.
8
Chandu was flying higher and higher.
It seemed so easy.
Flying, flying.
So high that he came up to an aeroplane.
"Hey, Chandu, how do you do?" the aeroplane asked.
"Fine. And safe journey!" Chandu quickly replied.
10
Soon Chandu climbed higher than before.
Flying and still flying.
A rocket came to meet him.
"Hello sir, how do you do?" the rocket shouted
"Very well/' Chandu smiled.
12
Still, Chandu was flying higher and higher.
Now the stars were twinkling all around.
They were smiling at Chandu,
as though he were a part of them.
"How are you feeling Chandu?" one star asked him.
"I am feeling great!" he said.
Suddenly, the stars began to wobble. And shake.
14
It was Mother, shaking Chandu awake.
"Good morning, how are you?"
He hugged her hard and said,
'Oh, now I feel better than ever before!
16
<End of Book>
About Pratham, Read India
Pratham Books was set up in 2004, as part of the Read India movement, a nation-wide campaign to promote reading among children. Pratham Books is a not-for-profit organization that publishes quality books for children in multiple Indian languages.
Pratham's mission is to see "a book in every child's hand" and democratize the joy of reading.
Pratham's books are available now in digital form on the Storyweaver platform.
See more Early Readers in our Early Reader category: https://freekidsbooks.org/subject/early-reader/
See more books from Pratham in our Storyweaver-Pratham category: https://freekidsbooks.org/publisher/storyweaver-pratham/