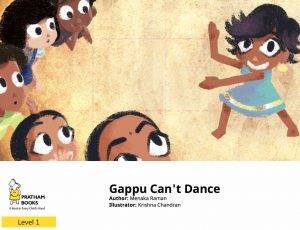 Gappu can't dance or can she? Everyone in Class 1A knows Gappu can't dance. When the students raise their left hand, she raises her right! Can Komal Ma'am get Gappu to dance? A story about the joy of dancing, using the concept of opposites.
Sample Text from Gappu Can't Dance
Komal Ma'am is showing 1A
Dance steps for Wednesday's class play.
Thaka dhimi thai! "Lift your left hand high.
Uh-oh! Gappu lifts her right hand. Gappu can't dance!
Bippity bop bop boom!
"Run fast around the room."
Uh-oh! Gappu is too slow. Gappu can't dance!
<End of sample>
Read the full book by selecting one of the buttons below the post.
This book was brought to us by Pratham and their Storyweaver platform, see more books from pratham below.