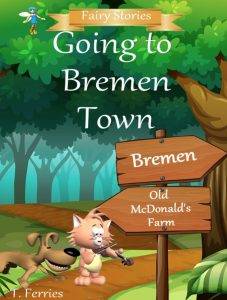 A group of friends travel to Bremen Town, finding many adventures along the way. See what happens when four the travelling musicians meet Captain Hook. Will they recover the gold he has plundered? Did you know that Puss in Boots can play the fiddle? See his origin story as he and the other animals battle the evil pirate Hook.
A cute take on many fairy tales and nursery rhymes.
Sample Text from Going to Bremen Town
Hello, I am the Blue Fairy. I am going to tell you a tale of adventure that happened here in fairy land. It is a tale of four traveling musicians. And so it began…
One day, a cow, a little dog, and a dish and spoon were standing around on the edge of Old MacDonald's farm. They were listening to a cat play his fiddle. He was a fine musician. He was playing Rising of the Moon, I believe. That is the cow's favorite song as she loves when the moon rises. She was dancing to the lively tune. She lives with Old MacDonald. The dog had left home looking for some dog biscuits. His mistress, Old Mother Hubbard, had looked in the cupboard but it was bare so the poor dog had none.
<End of Page 1>
You can see this and many other books by the same author with interactive literacy games and quizzes here: https://storage.googleapis.com/computermice.org/MICEBooks/home/start.htm
Download or read online the full version by clicking on the links below the post,
Or Buy the hard copy book on Amazon.
Read Along with Going to Bremen on YouTube:
Sing along with the Cat's Tunes here: