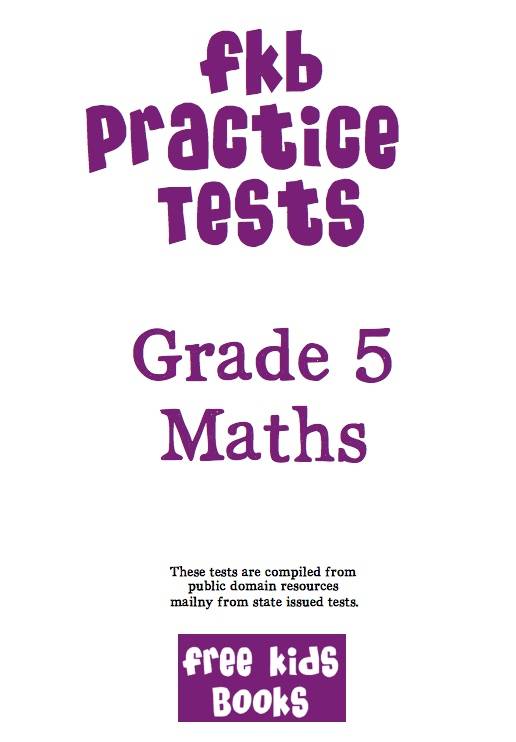 Our Grade 5 Mathematics Practice Tests and Exams provides a large selection of 5th grade mathematics year-end practice tests and exams from a variety of different states and countries. These practice tests can help students prepare for end of year tests, or they can be used by teachers as extra practice to administer to classes in lead up to the year end tests.
Asides from practicing for year end, these tests can also determine skill level and gaps in knowledge for after school tutoring or homeschool, they can help students improve grades through repeat practice and asking for more help with questions they get wrong, to get a better grades, or they can help students prepare for a placement test.
These resources are available in the public domain, and they are considered open educational resources.
Grade 5 Maths Practice Exams With Answers
Combo All Exams 5th Grade Maths with Answers (for marking)
Louisianna Believes 2013-4 Grade 5 Mathematics Tests – 3 parts, 50 multichoice and 2 long-form
Nebraska 2010 Grade 5 Mathematics Tests – 24 multichoice questions
Oregon 2010-2013 Grade 5 Mathematics Test – 20 multichoice questions
Jamaica Grade 5 Mathematics Test –  44 multichoice questions
Grade 5 Maths Practice Exams Without Answers
Combo All Exams 5th Grade Maths Without Answers (for students) (- This file is included in THIS POST)
Louisianna Believes Grade 5 Mathematics Tests – (as above without answers) 3 parts, 50 multichoice and 2 long-form
Nebraska 2010 Grade 5 Mathematics Tests -(as above without answers) 24 multichoice questions
Oregon 2010-2013 Grade 5 Mathematics Test -(as above without answers) 20 multichoice questions
Jamaica Grade 5 Mathematics Test (as above without answers) 44 multichoice questions
New Jersey Grade 5 Mathematics Test – 30 multichoice questions
RSA 2012 Grade 5 Mathematics Test – 26 multi-part written questions
RSA 2013 Grade 5 Mathematics Tests – 21 multi-part written questions
More Grade 5 Practice Maths Tests
Nebraska 2016 Grade 5 Mathematics Tests – 23 multichoice questions with answers
Massachusetts 2016 Grade 5 Maths Tests – 21 multichoice questions with answers