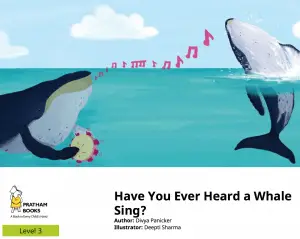 In Have You Ever Heard A Whale Sing we hear lots of facts about whale songs.
The underwater world is a noisy place. But amidst it all, melodious songs echo through the water. Read all about some of the strongest, largest and loudest singers under the sea—whales!
Author: Divya Panicker, Illustrator: Deepti Sharma
Sample Text From Have You Heard A Whale Sing – Whale Songs Facts
The beach can be a very noisy place. Wusssh, dussh. The waves rise and crash. Woooooo, hoooo. The wind howls.
Eeee, eee, eeee! The gulls cry.
Now imagine that instead of being close to the ocean, you are under it. It isn't much quieter down there.
Tuk, tuk, tuk!
crackles the snapping shrimp.
Hroah, hroah, hroak! grunts the lemonfish.
Trrrrrrrrrrrrrrr! A boat passes by.
Woaaaaah eee ee ooo woooah rrr aaah!
Woaaaaah eee ee ooo woooah rrr aaah!
What's that sound?
It's whales, singing in the distance— strong, loud and melodious!
Whales sing short and long songs.
Some songs last just a few minutes. Some songs can go on for half an hour.
Whales can also sing the same song for hours on end.
End of sample – Whale Songs Facts
Read the full book on the buttons below the post.
This is another great book from Pratham and their Storyweaver platform.
Enjoy more of these books below: