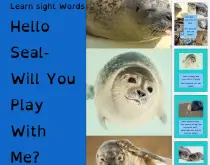 A short sight word photo book based on the words "Hello seal…will you play with me?", with our favourite very cute seals, and featuring 30 common sight words, and also a nice story for bedtime.
By: Zehnya Bruckert and Danielle Bruckert
NOTE TO TEACHER / PARENT
The words are repeated throughout the book so that children can easily read and learn the words. The repetition is aimed to build confidence and recognition for those learning to read, and is fun for toddlers to join in. At the end there is a word list for learning to spell and read.
Excerpt: 
Hello Seal – you look so cute. Will you play with me today? 
Hello friendly seal – you look so friendly. Will you play with me today?
<End of Page 2>
About the Author: Danielle mainly writes picture books for young children, she also writes text books for pilots who she says behave like children a lot. She created the FKB website to share the books with others.
Save
Save
Save
Save
Save