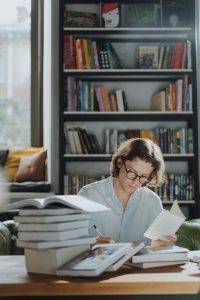 You've put in blood, sweat, and tears for a few years to write your first book. The manuscript can't just gather dust on your desk. It's time to take the next step: find a literary agent for your book.
With diligence and perseverance, you will find the right one. When you see your book gracing the shelves of Barnes & Noble, you will realize it was worth every bit of hard work you put in to find the perfect literary agent. 
What is a Literary Agent?
A literary agent is a bridge between the author and a publishing house. When you have finished writing a book, a literary agent uses their expertise to hook you up with the right publisher who's willing to print and market your book. 
Why Do You Need a Literary Agent?
If you're not a self-publishing author, you will need a literary agent because;
Traditional publishers don't give direct access to authors.

The literary agent knows which publisher to approach for your specific genre. 

They know the publishing industry insights – what's trending, what genre sells the most, etc. 

Your literary agent will talk to the right person in the publishing house to make a winning pitch for your book. 

It's the only way to crack the best financial deal

The legal terms of the publishing contract can be best explained because they are also invested in the partnership. 

They can enable a future publishing scope. 
How to Find a Literary Agent 
Before you set out to find a literary agent, an important point to remember is that your book may not fit the bill of the leading publishing houses like HarperCollins, Penguin, etc. But, you can aim at publishers from a lower tier. Just make sure to categorize your work to fit a genre like:
Crime 

Young adult fiction

Historical fiction

Nonfiction 
Check online or a bookstore for more popular categories. Approach a literary agent who is looking for your genre type, and your book will fit like a glove. 
Once you know what kind of literary agent will suit you, you can search online resources like Publisher's Marketplace, Query Tracker, AgentQuery, and Manuscript Wish List.
Scan through the acknowledgment pages of books that closely match yours in terms of genre, style, and theme. Authors name their publishing agents whom you can possibly work with on these pages. 
How to Select a Literary Agent for Your Book
Follow the steps below to select a suitable literary agent that gels well with you.
Make a list of similar books.
As an author, you should be familiar with other authors who write for the same genre as you do. Make a list of books by these authors. Check their website or social media accounts to find out their literary agent. 
Make a long list of literary agents.
Create a list of literary agents specific to your genre. Visit their profile page on the publishing house website to see if they are currently accepting submissions. 
You will also get a clue about the kind of submissions they are looking for. For example, if someone is looking for science fiction and your book is all about a robot family landing from Mars to take over your country, it's likely a perfect match!
Create a literary agent shortlist. 
Visit appropriate social media accounts of long lists of literary agents. Go through their feeds and get information about them from their details. 
This step will help you pick literary agents who seem to like the same things as you do. Remember that your agent will be there for the long haul if the first deal works out well. But if your personalities don't match, it would probably be a bitter relationship. 
Check the sales track record of the literary agent to size up the quality of their publishers and clients. This would also help you to get an idea of whether they are the right fit. 
Pro Tip 1: You should send your manuscript to around 12 to 15 literary agents in order to get a good chance of getting accepted. 
What to Submit to a Literary Agent 
Here's a list of documents to submit to a literary agent. 
This is a pitch to a literary agent as to why you have picked them as your potential agent. It should be about a page long and you should briefly describe your work. Add why and how it would fit the agent's interest and benefit them. 
It's a two-page long document that summarizes your book and includes how it ends. 
If you're a nonfiction author, the book proposal is a document between twenty and thirty pages. It's like a business proposal that explains why your book would sell in the market. 
If you're a first-time author of fiction, then you must submit a full manuscript of your book to the literary agent. 
Pro Tip 2: You must finish your book then have it professionally edited and proofread before sending the manuscript to the literary agents. 
A novel proposal normally includes the query letter, a synopsis, and the first chapter of your novel. 
Pick sample chapters for submission. Pick ones from the beginning of the manuscript in the case of fiction work, whereas sample chapters from any part will do for nonfiction. 
Signs of a Good Literary Agent
Here are the top signs that you've landed a good literary agent:
A professional literary agent responds to you on time, answers your queries, treats you as a partner, and is transparent in their dealings. 
When your literary agent lets you know about the rejections and explains to you how to improve your work, you've found a good partner. 
Your literary agent truly cares when you receive guidance from them on how to improve your query letter, proposals, and pitches. They should manage your business and perk you up when you feel down. 
The terms and conditions in a book contract must be vetted by the literary agent to protect your rights and financial gains. 
The publishing industry should be familiar with your literary agent. It shows their standing in the industry and the quality of the publishing house they belong to. 
Final Words
Finding the right literary agent can feel as time-consuming as writing a book. But the results are rewarding as sowing the right seed early can lead to a long-term, flourishing partnership.