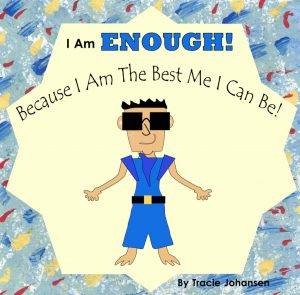 You are enough and deserve to be treated right. Don't ever let anyone dim your light. You are bright, kind, and loving and deserve the best, just keep going strong on your life's quest.
Believe you can achieve anything and tell yourself every day, I am amazing and I am okay! This little book will guide you through to keep you on track whatever you do.
This motivating ebook from Tracie Johansen helps children build self-esteem.
This eBook is available in two versions including boy and girl characters. It is the same story with different characters. The book available on the tabs below the post is the boy book, here is the link to the girl book: I am Enough Girls Book download and I am Enough Girls Book Read Online
For the Boys book please see the links under the post.
About the Author:
Tracie Johansen is the author of a series of "I Am" quick read inspirational books for kids and adults. She loves to write books to inspire people to be excited to start each day! Her goal is to motivate people to live an authentic life so they can find their purpose and live to their full potential. You can get a free copy of her kids' ebooks here.
http://www.azpazazbunch.com/KidsBooks.html