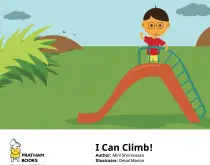 I Can Climb – A small boy learns how to climb, but can he climb down again? A simple story great for toddlers learning to push their boundaries. Also a great book for early readers with large text, nice repetitive language, and common sight words. Another great creative commons book from StoryWeaver and Pratham, classified by Pratham as Level 1.
By: Mini Shrinivasan, Deval Maniar
Text and Images from I Can Climb – Pushing Boundaries
I am a big boy now.
I can climb up the steps.
But I cannot climb down again.
I can climb on a chair.
But I cannot climb down again.
<end of sample>
See more Early Reader Books below