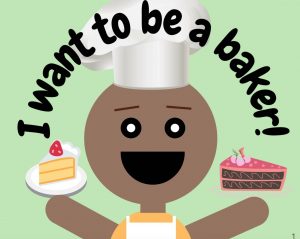 I Want to be a Baker is about a young child wanting to become a baker, and through the trials of learning, experiencing the feelings of giving up. But persevering and receiving help he eventually achieves his goals.
Sample Text from I Want to be a Baker
I want to be a baker!
Because I like cake!
Hmm…but how do I make a cake?
Maybe a little bit of flour, sugar, and eggs.
<End of sample>
Read the full version of I Want to be a Baker by selecting one of the buttons below the post.
See more books in our activities and crafts section below: