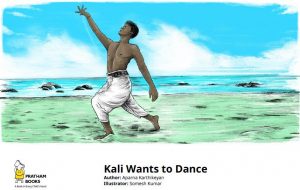 Kali Wants to Dance is the biography of Kali Veerapathiran born in a fishing Village, with a talent and passion in dancing. But his family does not have enough money to spare for dance classes. And who has heard of boys dancing for a living? "Who has ever learned dance and made any money from it? It's a waste of time!" growls Kali's maama. "Only girls dance! You'll become girlish," his friends tease him. Kali on his own mind can't decide what his future will be. Amid stereotypical gender pressure and gender discrimination, so typical of smaller rural communities, Kali finds strength to follow his path.
Dance is all that and more for Kali, he cannot be happy if he will be doing something else. With the help of Sarah Chanda a member of the managing committee of Gremaltes Hospital in Chennai, Kali's finds sponsorship for his dance education. Soon Kali Veerapathiran at the age of 25 succeeds in becoming the only male dancer who has mastered the classical dance form Bharatanatyam, as well as three ancient Tamil folk dance forms.
Kali Veerapathiran won many awards completed his PG Diploma in dance, and became famous in India. He then founded Koothambalam, a dance school in Kovalam.
Author: Aparna Karthikeyan
Illustrator: Somesh Kumar
Text and Images from Kali Wants to Dance – Biography of Kali Veerapathiran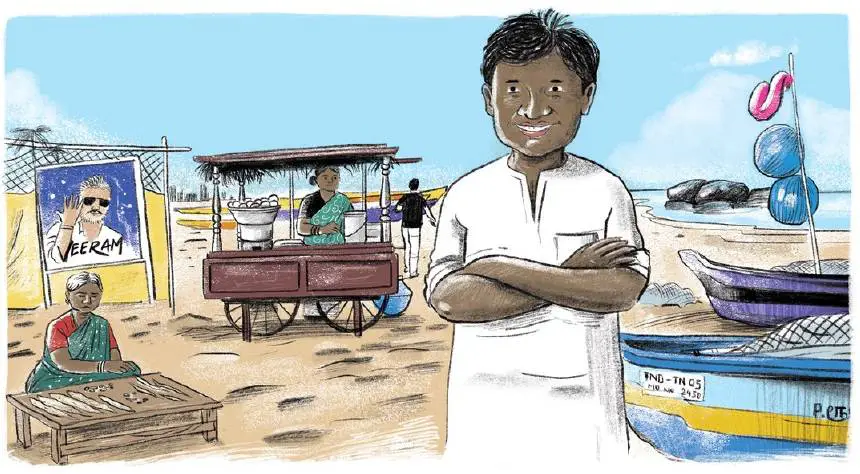 In the fishing village of Kovalam, Kali Veerapathiran is a hero.
Not because he is an actor.
Not because he has fought off villains.
He's a hero because he learnt to dance.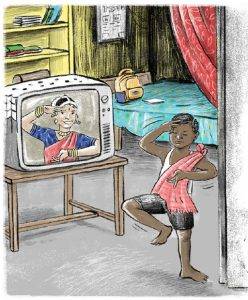 It's the year 2000 and Kali is eight years old. Like many boys, he goes to school,
plays with his friends, watches TV. Unlike many boys, Kali also dances.
Kali loves to watch Padmini dance on TV. She is a famous actor and a fantastic dancer.
He pretends to wear a salangai (ankle bells) and dances Bharatanatyam, just like her.
Thari thana jonnu thimi Thaka thari kita thaka Thathinginathom
Thathinginathom Thathinginathom.
Kali becomes such a good dancer that his teachers ask him to perform at school programmes. Soon,
he is known in the little fishing village as a Bharatanatyam dancer.
One day, Sarah Chanda, who manages a hospital in Chennai, sees him perform on stage. Ditheiyum
tha thaa thei, Ditheiyum tha thaa thei
She's astonished to see such a talented boy, and is moved that he's gotten so far by himself.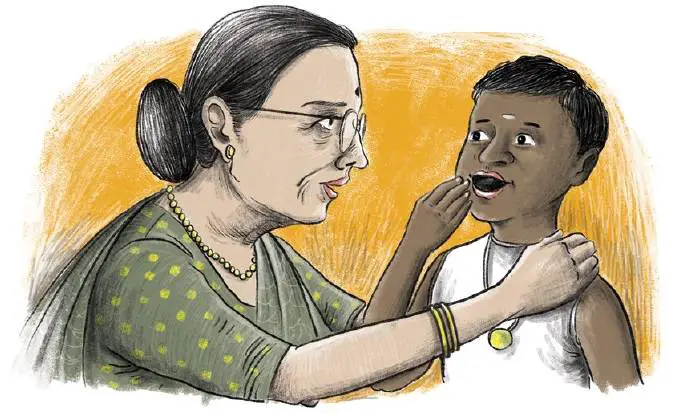 "Would you like to learn Bharatanatyam in Kalakshetra?" she asks him after the performance. Kali laughs at first. Dance? The Dalit community rarely had the opportunity to learn, let alone master, Bharatanatyam.
In Kali's family, there is never enough money to spare for dance classes. And who has heard of boys dancing for a living?
But Sarah is serious. "You must learn Bharatanatyam in a proper school, Kali," she says. "I will pay your fees."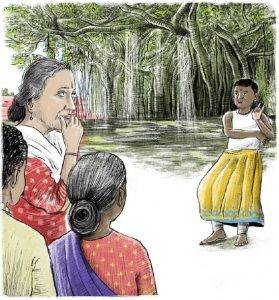 Sarah arranges for Kali to visit Kalakshetra, one of the best dance schools in the country.
It is a beautiful place in Chennai with lots of trees.
Leela Samson, the head of Kalakshetra who is also a renowned Bharatanatyam dancer, tells Kali to perform for them.
Kali ties a saree crookedly over his trousers and dances to a film song.
The teachers think he has the makings of a classical dancer.
<end of sample text from Kali wants to Dance>
Read along with the video below
About Pratham Books
Pratham Books goes digital, FKB  is helping with their aim to get a book in every child's hand!
Storyweaver, their digital platform is provided to weave a whole new chapter in the realm of multilingual children's stories. Knitting together children, authors, illustrators and publishers. Folding in teachers, and translators. Creating a rich fabric of openly licensed multilingual stories for the children of India and the world. Their unique online platform, StoryWeaver, is a playground where children, parents, teachers and librarians can get creative, using the resources to make your own unique books online.
About Creative Commons
Content under Creative Commons licenses can be downloaded, translated and can even be used to create new stories ‐ provided you give appropriate credit, and indicate if changes were made. To know more about this, and the full terms of use and attribution, please visit the following.
Read Kali Wants to Dance – Biography of Kali Veerapathiran in different Languages below
Biography of Kali Veerapathiran
French version of Kali Wants to Dance
Hindi Story Kali Wants to Dance
Biography of Kali Veerapathiran
See more books or our Biographies below
See more books by Pratham's Storyweaver below
---
Sponsored Links:
Note – if you sign up through these links, it doesn't cost you any extra, but FKB receives a small donation, which helps us with our project to buy more FREE Hardcopies   for kids who need them

All our posts are checked by Grammarly, the FREE online grammar checker (We still receive a donation even if you only sign up for the free account :-):