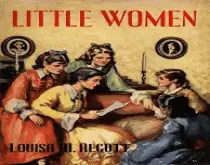 The classic novel Little Women, following the lives of four sisters—Meg, Jo, Beth, and Amy March—detailing their passage from childhood to womanhood, emphasising, periodically, the importance of domesticity, work, and true love, all of them interdependent and each necessary to the achievement of its heroine's identity.
By: Louise M Alcott
Excerpt: "CHRISTMAS won't be Christmas without any presents," grumbled Jo, lying on the rug. "It's so dreadful to be poor!" sighed Meg, looking down at her old dress. "I don't think it's fair for some girls to have lots of pretty things, and other girls nothing at all," added little Amy, with an injured sniff.
About the Author: Louisa May Alcott was an American novelist and poet best known as the author of the novel Little Women and its sequels Little Men and Jo's Boys.