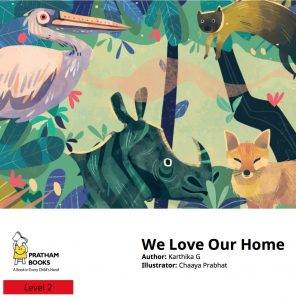 We Love Our Home is a story about animal habitats in India.
This is a great nature ebook for early elementary that combines biology and  geography, Have some fun looking up the animal types and the locations, make a project out of researching each species and location, there are very unique and special conservation values for each type of animal and each location – see if you can find out what they are.
Author: Karthika G Illustrator: Chaaya Prabhat
Text from We Love Our Home.
Who loves splashing?
The Irrawaddy Dolphin loves splashing in Chilika Lake.
Who loves dust baths?
The Malabar Pied Hornbill loves a dust bath in the forest in Dandeli.
Who loves sitting in wet mud?
The Indian Rhinoceros loves sitting in wet mud on the river banks of Kaziranga.
Who loves making wide dung piles?
The Nilgai loves making wide dung piles at the foothills of the Himalayas.
Who loves resting in burrows?
The Thick-tailed Pangolin loves resting in burrows in the dry lands of Gir Forest.
Who loves jumping across treetops?
The Yellow-throated Marten loves jumping across treetops in Namdapha.
Who loves playing hide-and-seek in short grasslands at Jaisalmer.
Who loves building nests with their partners?
The Spot-billed Pelican loves building nests with their partners at Atapaka.
Who loves staying comfortable and snug at home?
We all do!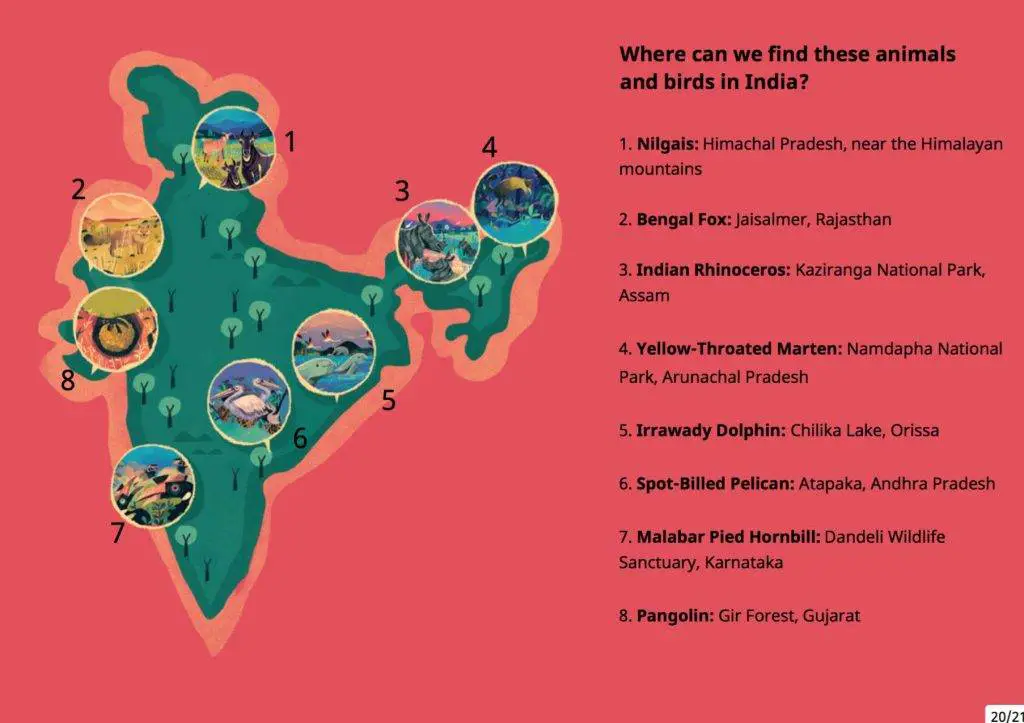 Where can we find these animals and birds in India?
1. Nilgais: Himachal Pradesh, near the Himalayan mountains
2. Bengal Fox: Jaisalmer, Rajasthan
3. Indian Rhinoceros: Kaziranga National Park,
Assam
4. Yellow-Throated Marten: Namdapha National Park, Arunachal Pradesh
5. Irrawady Dolphin: Chilika Lake, Orissa
6. Spot-Billed Pelican: Atapaka, Andhra Pradesh
7. Malabar Pied Hornbill: Dandeli Wildlife Sanctuary, Karnataka
8. Pangolin: Gir Forest, Gujarat
<End of text from We Love Our Home – Animal Habitats in India>
If you enjoyed this book, see more like this in our categories on Science and Nature.