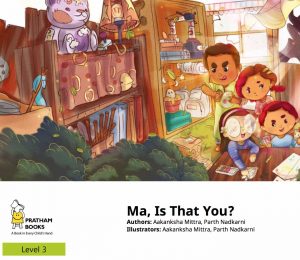 Four friends have a secret meeting place, but someone keeps trying to get in. Is it Ma like the person says, or is it a scary monster? The group has 3 forms of security to protect their secret meeting place. This book provides a nice simple explanation of security and why it's important in a fun way.
Sample Text from Ma, Is That You?
Bibi, Azeem, Juzer, and Thei Thei are having a meeting in their secret meeting place.
They hear a voice at their door.
"Hello beta, it's Ma! I brought snacks for you and your friends. Please open the door."
"You don't sound like Ma," says Thei Thei. "What's the secret knock?"
BAM BAM BAM
"That's not the right knock. Sorry, we can't let you in!" says Azeem.
ROOOAAAR
"I will get in one day!" shouts the monster from behind the door.
<End of sample text>
This story was brought to us by Pratham and their Storyweaver platform, see more stories from them below.