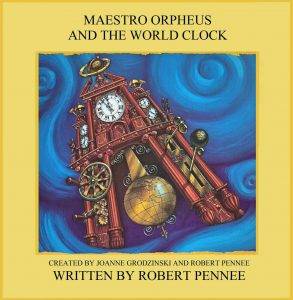 In this dream-like tale, Fred is visiting his grandfather when time suddenly stops. Setting out to discover why, Fred meets Maestro Orpheus and his magical lyre. Together they begin a musical adventure along The Corridor of Time, on their way to wind The World Clock.
Drawing on a broad range of classical music, by composers from Bach and Haydn to Chopin and Strauss, Maestro Orpheus and The World Clock explores the intimate relationship between time, memory, and music in a way that is intended to delight and fill with wonder.
The text in this book, without the benefit of the music or sound effects in the audiobook version of the story, has been adapted for the benefit of the reading experience.
This book is available to purchase in its original form as an audiobook format, set to classical music, and narrated by Canadian actor, R.H. Thomson, with Leslie Marshall, Marshall Matson, and B.J. McLellan. The music was recorded by the English Chamber Orchestra. The audio book also contains an 80 page teacher's guide. See more here: https://www.maestroorpheusproductions.com/products 
See more about Maestro Orpheus at the creator's website here: https://www.maestroorpheusproductions.com/
Review:
Robert Munsch as: "A wonderful journey through the world of music. I highly recommend it."