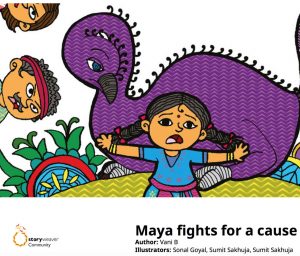 In Maya Fights for a Cause, construction threatens Maya's village, but the villagers are not educated and don't know what to do. Everyone is in despair, until a bright 10 year old, Maya, thinks about fighting for their cause. She realises the only one who can help is the teacher from their neighbouring village, a volunteer from the city, who can write in English and knows who to contact, so she seeks out the help of the teacher. Together they save the village.
A story of how change can be created by taking action, an inspiring story for children.
Ideas for activities – Ask children to look for a cause that they believe in and find ways to support the cause, for example joining groups, making support webpages linking to the website, writing letters, fundraising campaigns, collecting donations, creating an ebook*. This can be an important task in teaching children how to contribute and how to market an idea.
*Please do submit to us if you do!
See more books like this one in our category Books for a Cause.
See more books about conservation in our Conservation category. 
This book was provided in Creative Commons, creative commons publications are also another way to contribute to the global cause of education by allowing free sharing of information. See all our creative commons books in our Creative Commons category.