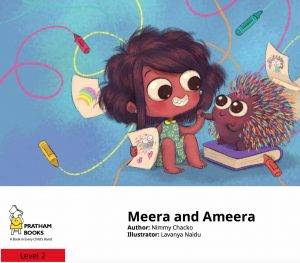 Meera and Ameera are best of friends. Strangely Meera is the only one who can see Ameera. That's probably because she is an imaginary porcupine. Join the two friends in their many adventures real and made up.
Sample Text From Meera and Ameera
Meera and I are a team. She's my most favourite person in the world.
Do you know why? She's the only one who can see me!
Everything she likes, I like. Everything I like, she likes.
Our names also sound the same. Meera and Ameera!
Things that happen to her happen to me too.
"I lost another tooth," Meera says. While I lost another quill.
<End of sample Text>
Read the full book by selecting one of the buttons below the post.
This story was brought to us by Pratham's Storyweaver platform, if you enjoyed this story, see more stories from Pratham below.