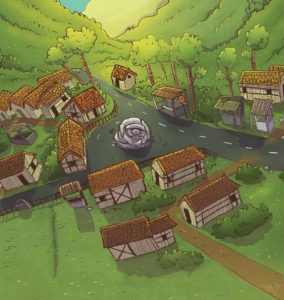 Megan is searching for her little sister's missing cat. She is determined to find Frits. On the way she confronts a mysterious and scary rock creature and ends up in a strange new land. Find out what happens in this short entertaining fantasy story.
Sample text from Megan and the Mystery of the Moving Rock
"It's not like Frits to stay out for three nights!" Raahi snapped her crayon in two and threw it across the room.
"Not like Frits," Megan agreed. "Someone must have taken him." She was helping Raahi look for her cat.
Megan loved sticky tape and walking, so she offered to go stick flyers across town.
"Our stray cat is also missing," Bahadur, the shopkeeper said.
"The cats in my street have gone missing too!" Aashna said. "I last saw them playing by The Rock."
"WHERE DID YOU LAST SEE THE ROCK!" Megan asked excitedly.
"The valley," Aashna pointed.
The Rock had arrived at the center of the town three months ago. It had a shoelace tied to its nose. Everyone wondered how it got there. And how the rock moved to a different spot every day.
<End of sample text from Megan and the Mystery of the Moving Rock>
Read the full book by selecting one of the buttons below the post.
This book is in our fantasy section, see more books from this topic below: