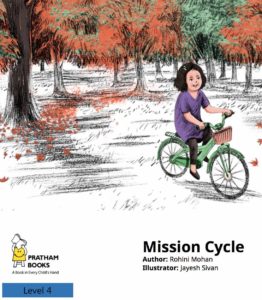 Mission Cycle is a tale of learning to ride a bicycle and at the same time an experience of Curfew through a child's eyes.
Author: Rohini Mohan, Illustrator: Jayesh Sivan
Sample Text from Mission Cycle
Is it morning already?
Why didn't Ammi or Abbu wake me up?
Did they forget I have school?
Did they forget me?
"Noorain! You woke up by yourself!" Ammi says. I cosy up to her.
Why is everyone so serious? And how come Ammi, Abbu, Dadu, and Nani are watching TV in the morning?
"Ammi, is it Sunday?" I ask. Ammi is a science teacher, and we usually walk to school together.
"No, Noorie, school is cancelled today," she says.
"Oh," I say, acting as disappointed as I can. I'm secretly thrilled! "I guess I'll just have to go to Wasim's to play," I say.
Wasim and I are both in the second standard, but in different classes. We have been neighbours since we were babies. We have spent many holidays playing, swinging from apple trees and shouting over the rose bushes until our families yelled at us. We have even invented 14 games together!
He is my best friend, and my best competitor.
Abbu gives me some milk
and chochwor bread. The bread is from Wasim's family bakery. It has a special touch: raisins. I love it.
"Noorie, no use going over to Wasim's," Abbu says. "He left for Jammu with his Ammi for a few days."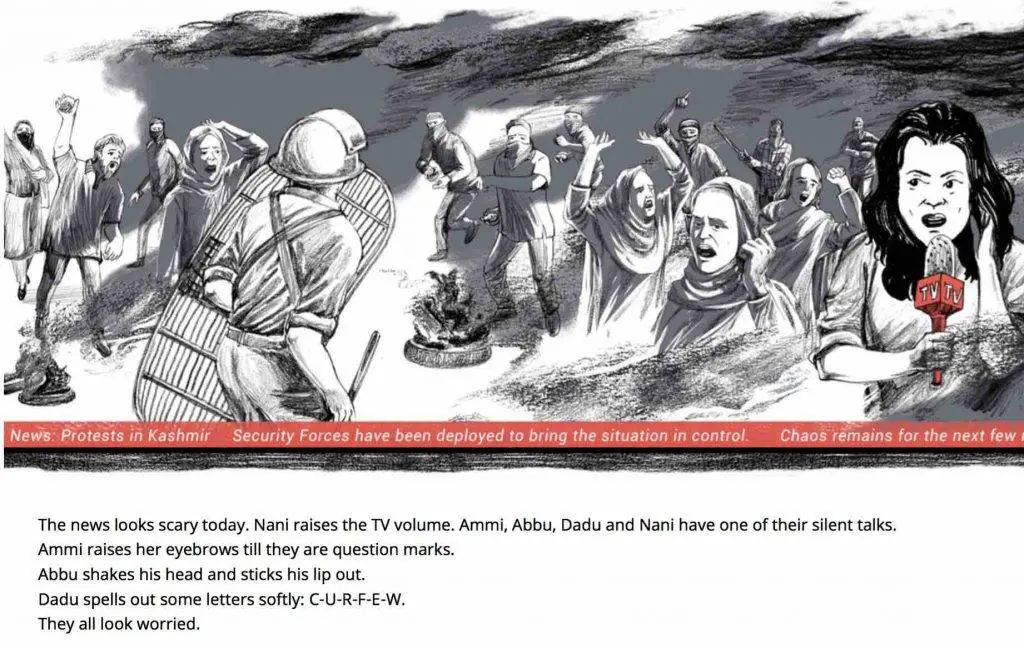 <End of sample text>
Keep reading by selecting the buttons below the post.
This book is brought to us by Pratham's Storyweaver platform.
See more books from Pratham and Storyweaver below: