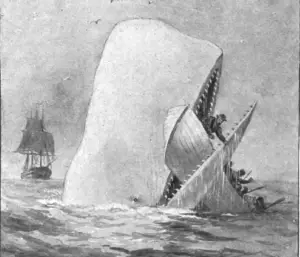 In Moby Dick; or, The Whale, Sailor Ishmael tells the story of the obsessive quest of Ahab, captain of the whaler the Pequod, for revenge on Moby Dick, the white whale that on the previous whaling voyage bit off Ahab's leg at the knee.
Ishmael travels in December from Manhattan Island to New Bedford with plans to sign up for a whaling voyage. The inn where he arrives is so crowded, he must share a bed with the tattooed Polynesian Queequeg, a harpooner whose father was king of the (fictional) island of Rokovoko. The next morning, Ishmael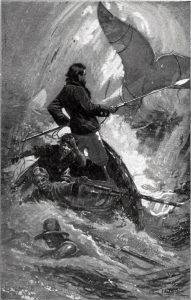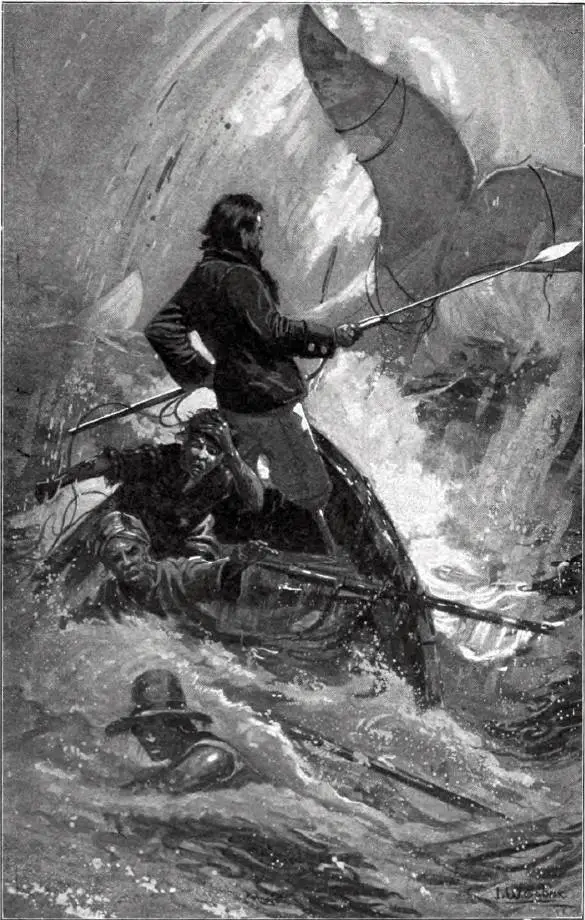 and Queequeg attend Father Mapple's sermon on Jonah, then head for Nantucket. Ishmael signs up with the Quaker ship-owners Bildad and Peleg for a voyage on their whaler Pequod. Peleg describes Captain Ahab: "He's a grand, ungodly, god-like man" who nevertheless "has his humanities". They hire Queequeg the following morning. A man named Elijah prophesies a dire fate should Ishmael and Queequeg join Ahab. While provisions are loaded, shadowy figures board the ship. On a cold Christmas Day, the Pequod leaves the harbor.
Moby Dick, published in 1851 during the period of the American Renaissance, amazingly was a commercial failure when first released, and out of print at the time of the author's death in 1891, but during the 20th century, its reputation as a Great American Novel was established. William Faulkner confessed he wished he had written it himself, and D. H. Lawrence called it "one of the strangest and most wonderful books in the world", and "the greatest book of the sea ever written". "Call me Ishmael" is among world literature's most famous opening sentences, and glorified on screen by Disney among others, nearly every child of certain age knows the name Moby Dick as synonymous with the infamous whale.
Author: Herman Melville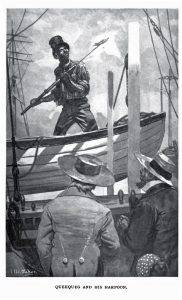 Exert from the Book
Call me Ishmael. Some years ago—never mind how long precisely—having little or no money in my purse, and nothing particular to interest me on shore, I thought I would sail about a little and see the watery part of the world. It is a way I have of driving off the spleen and regulating the circulation. Whenever I find myself growing grim about the mouth; whenever it is a damp, drizzly November in my soul; whenever I find myself involuntarily pausing before coffin warehouses, and bringing up the rear of every funeral I meet; and especially whenever my hypos get such an upper hand of me, that it requires a strong moral principle to prevent me from deliberately stepping into the street, and methodically knocking people's hats off—then, I account it high time to get to sea as soon as I can. This is my substitute for pistol and ball. With a philosophical flourish Cato throws himself upon his sword; I quietly take to the ship. There is nothing surprising in this. If they but knew it, almost all men in their degree, some time or other, cherish very nearly the same feelings towards the ocean with me.
About the auth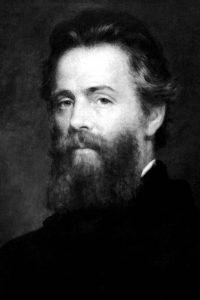 or
Herman Melville (August 1, 1819 – September 28, 1891) was an American writer, best known works Typee (1846), a romantic account of his experiences in Polynesian life, and this, his classic whaling novel Moby-Dick (1851). His writing draws on his experience at sea as a common sailor, exploration of literature and philosophy, and engagement in the contradictions of American society in a period of rapid change. He developed a complex, baroque style: the vocabulary is rich and original, a strong sense of rhythm infuses the elaborate sentences, the imagery is often mystical or ironic, and the abundance of allusion extends to Scripture, myth, philosophy, literature, and the visual arts.