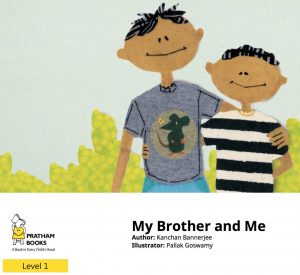 In My Brother and Me children can fill in the missing word in this short book about two brothers and what they do each day.
Sample text from My Brother and Me
This is Samir.
He is in class four.
This is me. I am in class one.
Every morning we get ready for school.
I can button my _ _ _ _ _.
Samir helps me put on my _ _ _ _ _.
<End of sample>
Keep reading by selecting one of the buttons below the post.
This book was brought to us by Pratham and their Storyweaver platform.
Read more books from Pratham below: