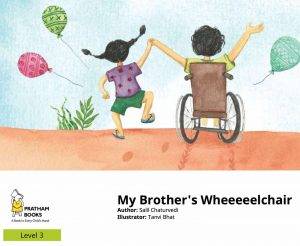 Durva and Dhrubo are brother and sister. Together they explore markets and parks, and they have lots of fun like normal siblings do. Dhrubo's wheeeeelchair is a fun attachment to their games. Read about all the crazy things this pair get up to in My Brother's Wheeeeelchair.
Author: Salil Chaturvedi, Illustrator: Tanvi Bhat
Sample Text from My Brother's Wheeeeelchair
Wheeeeeeeeeeee!
Here's me and my brother on his wheelchair.
Everyone who sees us,
Says we make a crazy pair.
He has painted both the wheels,
In blues, yellows and maroons.
And sometimes, just for fun,
He also ties balloons.
<End of sample>
Read the full text on the buttons below the post.
This book was brought to us by Pratham and their Storyweavher platform.
See more of these types of books below: