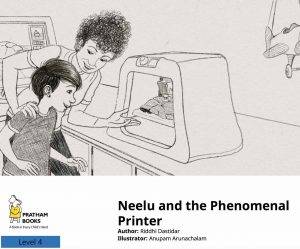 When a friend visits Neelu she has some amazing stories to tell about animal rescues and animal prosthetics. The book explains how 3D printing helps in the animal prosthetics industry including some real examples at the end.
Author: Riddhi Dastidar, Illustrator: Anupam Arunachalam
Sample Text from Neelu and the Phenomenal Printer
Miru Mashi is visiting Neelu in Kolkata.
Neelu is thrilled.
Miru Mashi always has the strangest stories to tell.
Like that time when she almost got snapped up by a crocodile, or that other time she lost her little finger to sneaky piranhas!
Miru Mashi is a wildlife conservationist, and works with two-toed sloths in the Amazon rainforest.
The next day, Miru Mashi takes Neelu to explore the city. At the Maidan, they notice a lot of horse-drawn carriages. The horses look skinny and tired.
<End of sample>
Read the full book by selecting one of the buttons below the post.
This book was brought to us by Pratham via their Storyweaver platform.
See more books from Pratham and Storyweaver below: