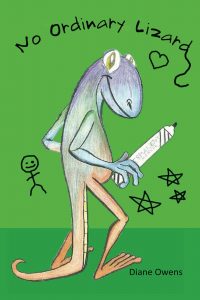 In No Ordinary Lizard, a middle-grade adventure, Ruth and her lizard Benson go on an incredible journey.
If you had a secret pet who was smart enough to write you messages, how far would you go to protect him? This is the question 11-year-old Ruth Patterson faces every day.
To keep her secret, Ruth must take the blame for all the trouble Samson, her lizard, causes.
To keep him safe, she'll have to solve the mystery of a glowing rock, decipher a Hawaiian legend, and unravel a string of lies – all before the lizard's dangerous enemy catches up with them.
To download or read online the full version of No Ordinary Lizard, kindly made available by the author for your enjoyment, select the buttons below the post.
Reader reviews of No Ordinary Lizard:
All of the following reviews came from the book's Amazon reviews.
No Ordinary Lizard was a fun book to read with many unexpected twists and turns that helped maintain the story tension. This whimsical lizard, who becomes known as Benson, is capricious and endearing. He creates many humorous and/or tense happenings in the life of Ruth Patterson, the girl who attempts to take care of him as a pet. He is no ordinary lizard. I read this aloud with my granddaughter, who is six, and we both enjoyed it very much. – Speechteach223
Great read! Loved the story!! Great book for readers (and listeners) of all ages. – David White
A lizard you grow to love! OK! I'll admit it! These lizards made me cry! I hope someday I can read "No Ordinary Lizard" to my grandchildren!! – L.S.
You've gotta love this little guy! – D. Ray
The following review is from Readers Favourites
Reviewed by Gail Kamer for Readers' Favorite
Whoever heard of a lizard hatching from a stone? No Ordinary Lizard by Diane Owens is not just a simple tale of having a pet and then having to let go. It's the story of an extraordinary lizard who is like no other lizard on Earth. Of course, being unusual it doesn't eat normal lizard food. It eats cat food. And it's not even nice to the cat. Poor kitty. The lizard ties silverware to the cat's tail! This lizard changes colors with his moods and changing emotions. He learns to draw, read, and write. But since he's no ordinary lizard, he is hunted. Who wants him and how does he escape? You'll find out in this funny story about friendship.
I fell in love with Benson, the lizard in No Ordinary Lizard by Diane Owens. Written with children aged 8 to 10 in mind, the story is just like the title; no ordinary story. Diane Owens' creativity with the idea and the many twists and turns in the book will keep all readers interested, even those who have a hard time conquering reading. I would also recommend it to younger children as a "listen to" book. In addition to imagining such a wonderful story, Ms. Owens has created a website which offers reading and writing connections for several grade levels but mainly third through fifth. The site offers content matched to common core for informative, opinion, and narrative writing. It also offers writing material for each chapter of No Ordinary Lizard. As a retired educator, I highly recommend both the book and the educational materials to teachers and parents. Both the book and the site are high quality. I fully expect No Ordinary Lizard will become as beloved a children's story as Charlotte's Web!
Purchase Links
Site address for buying the print and Kindle edition: https://www.amazon.com/No-Ordinary-Lizard-Diane-Owens/dp/1480148733/ref=tmm_pap_swatch_0?_encoding=UTF8&qid=1539604820&sr=8-1
Site address for buying other ebook formats: https://www.smashwords.com/books/view/245531
For more about Diane Owens, here's a link to her Author Page on Amazon: https://www.amazon.com/Diane-Owens/e/B009XLFJRQ/ref=sr_ntt_srch_lnk_4?qid=1539608378&sr=8-4
Exercises from No Ordinary Lizard, based on Common Core Standards
Diane has a whole bunch of amazing writing exercises and resources on her website https://allwritewithme.com, for example, her Common Core Writing Guide,   Provides exercises and guidance making No Ordinary Lizard a perfect comprehensive literature study for elementary and middle grades.
Sample Text From No Ordinary Lizard
Rock, Blisters, Lizard
~~~
It all started last spring, in the middle of the night, with a horrible cold. I was on my way to grab another box of Kleenex when my big toe landed on something blazing hot. It felt like I'd stepped on the sun and danced around on the flames for awhile. I bit back a scream, lunged for my bed and turned on the light. That poor, tortured toe was the color of a ripe tomato. Wanting to know how it got that way, I crouched on the bed and examined the floor.
Nothing plugged in, nothing turned on. No flames or smoke or ashes. Not a thing that could turn my toe into a swollen vegetable, until I poked through the piles of used, soggy Kleenex. The rock Aunt Myk had given me five days before was buried under the third wad. And it was glowing.
That's right. Glowing. Like the glow sticks police officers give to little kids on Halloween. But it wasn't shimmering yellow. It was glaring turquoise.
Even though my swollen toe blasted a thousand warnings to my brain, I reached out to touch the glow. Within seconds my hand and most of my arm were throbbing, too.
I limped to the bathroom, ran cold water all over my foot and most of my fingers, grabbed more Kleenex and hobbled back to my room.
Now that the rock was no longer buried, dancing turquoise lights splashed across every inch of my walls. Still, I was so sick that none of it mattered. All I wanted to do – all I could do – was crawl into bed. I fell back asleep before my head hit the pillow.
~~~
Since I slept through all that pain in the middle of a mysteriously lit up room, I knew I was too sick to go to school the next day. But I decided to go anyway. I just had to show that rock to Jared. He was the only person I knew who might understand how a rock could light up rooms and burn people.
I'd just forced down two spoonfuls of Rice Krispies and was pulling myself up the stairs when Mom's voice rang out from the bathroom.
"Ruth Patterson! You better be getting dressed. We're leaving in twelve minutes."
"Almost ready," I called, then headed to my room and squinted watery eyes at Aunt Myk's rock. I really didn't want to touch it again. Not only was it steaming, it was oozing glittery slime all over the place. Plus, it seemed to be swaying. Just a tiny bit, but certainly more than any rock ever should.
Beyond weird. More like frightening. Possibly more than Jared could handle.
While I wondered how to get the rock inside my backpack, my brother, Matt, stood in the hallway and grinned at me.
"Mom! Ruth's not dressed!" He hopped from one foot to the other, looking more like a hyped-up monkey than a nine-year-old boy. I grabbed some germ-infested Kleenex off the floor and launched the snot ball at his face.
After Matt raced off to rat on me again, I wrapped my blistered hands in a couple shirts I found under my dresser and hurled the steaming, glowing rock into my backpack. I shrugged out of my pajamas, put on my favorite khakis and pulled one of the shirts over my head. It was singed on the left sleeve.
Mom's head appeared in my doorway. Her eyebrows were scrunched together in one straight, serious line. "We have to go, Ruth. Now." Mom was a history professor at the University of Iowa. She taught college students the role of women in medieval history and she hated to be late.
For the first time ever, I was as eager to get to school as she was. So I whisked my canary yellow baseball cap onto my head before she could notice my uncombed, frizzed-out hair.
"Let's go, then," I said, surprised by the bright and breezy sound of my voice. That's how my aunt Myk always sounded. I practiced all the time and that morning I sounded just like her, even with my monster-sized cold.
Sounding like Aunt Myk made me feel brighter and breezier too, but not for long. As soon as I headed down the stairs, I launched into a series of sneezes that made the rock's heat press right through my backpack and into my shoulder blades. It felt like I'd been branded. In a way, I guess I had been. That rock already owned my life. I just didn't know it yet.
~~~
To download the full book, click on the link below.
---
All our posts are checked by Grammarly, the free online grammar checker (British English used):
This site is hosted by Bluehost:

Leave a comment (it won't be public), or contact me if you want help getting your own website cost-effectively.