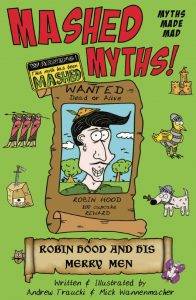 A tale of Robin Hood and his Merry Men like you've never heard it before. King Prince John and the Sheriff are trying to capture Robin Hood with some not very cleverly disguised traps, and Robin Hood continues to rob from the rich and give to the poor but with some entertaining twists.
MASHED MYTHS is a series of heavily-illustrated, middle-grade novellas for reluctant and non-reluctant readers ages 8-12 that contain exciting, well-known tales that have been mashed, mushed, and told like never before (and will probably never be again) – for laughs!
The authors of Mashed Myths are also trying to help stop the decline in childhood literacy rates with GOTCHA BOOKS http://www.gotchabooks.net with many more highly engaging Mashed Myths that will help kids keep reading.
Sample Text from Robin Hood – Mashed Myths
"Help!" screamed the poor village woman. " The king is stealing my apples!"
Prince John, the evil King of England, smirked as he snatched the apple out of the old woman's hands.
"I'm the king, peasant," he said. "And you're a peasant, peasant. No one's going to help a poor peasant like you!"
Suddenly, from out of the forest, leapt a man in a green hooded cape, carrying a long bow. A group of armed and smiling men stood behind him.
" Then my name must be no one!" said the man. "And these are my band of merry no ones! For we  shall stop you! Now give this old woman her
apple back, you fiend!"
<End of sample>
Read the full book by selecting one of the buttons below the post.
Quotes:
What people are saying about MASHED MYTHS:
"MASHED MYTHS are definitely better than mashed potatoes .and I like mashed potatoes a LOT! A great mix of fun, information, grossness and the fact files are hilarious!" Adam Wallace, New York Times Bestselling Author, How to Catch a Leprechaun.
"I loved it! A hilarious new reading of the classic myths. MASHED MYTHS is the perfect book for a child who love heroes and adventure… the biggest plus of this book is the fact that the authors know how to write for kids." Jeanette Nikolova, Reedsy Discovery
"I wish Robin Hood would give me my pants back!" Prince John – Evil Villain
If you want to buy a copy of all the mashed myths, check them out here: Mashed Myths on Amazon