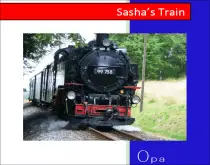 Sascha's Train – A fun holiday picture book about a little boy's trip on a steam train.
Author: Peter Whittaker
Text and Images from Sascha's Train
Sasha was first in the car. You must be joking!
"C'mon, Mum, hurry up! That's not Thomas,
We're going to see Thomas." Is it?
"Ah, there's the station, Mum." "But that's not our train,"
Monkey, Dad replied.
"But Where's Thomas?" "I can't see him anywhere!"
"See, here he comes, Sashi." "He's right on time."
I guess I better get back to Mum or I might miss the ride.
"Ummmmmmmmm!" "He didn't stop, Mum."
"It's OK, Sashi, he's just changing tracks." I'd better get on board.
"Look, Mum, we're moving." "Yes, Dad, I'm here with Mum,
in the carriage."
"We're going to the left." "Now we're going to the right."
end of sample – Sascha's Train
See more of these books below