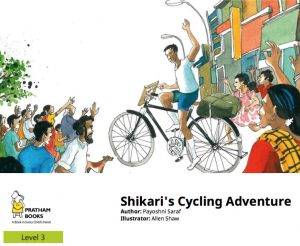 Shakari's Cycling Adventure – Shakari loved sports and couldn't sit still. When he heard the Asian Games were being hosted in Dehli he decides to cycle all the way from his village to the Asian Games. Read about his journey in this illustrated level 3 book from Pratham.
Sample Text from Shakari's Cycling Adventure
Shikari just could not stay still. He loved playing football, hockey, kabaddi, cricket and enjoyed running and cycling. His real name was Shivaprakash, but because his hometown was Shikaripura, his friends called him Shikari.
Shikari worked at a sports store after graduating from college. The work kept him busy but he was bored. He longed to play sports and was always dreaming of adventure. It seemed to Shikari that his life had suddenly taken pause.
Until one day, Shikari heard something on the radio. "India is hosting the Asian Games"
"Delhi," Shikari thought, "I have never been to Delhi and I must go to see the Games!"
A brilliant idea entered his mind. The idea of a thrilling adventure. A thrilling cycling adventure!
"What if I cycle till Delhi? I have never cycled so far. It will be exciting to travel through new cities and towns."
His friend Richard offered him his cycle for the trip.
<End of Sample>
Read the full book by selecting one of the buttons below the post.
Read more books from Pratham below: